Trump: Clinton's foreign policy will lead to WW3
Trump: Clinton's foreign policy will lead to WW3
Edited by
Gaurav Jeyaraman
Oct 26, 2016, 04:42 pm
4 min read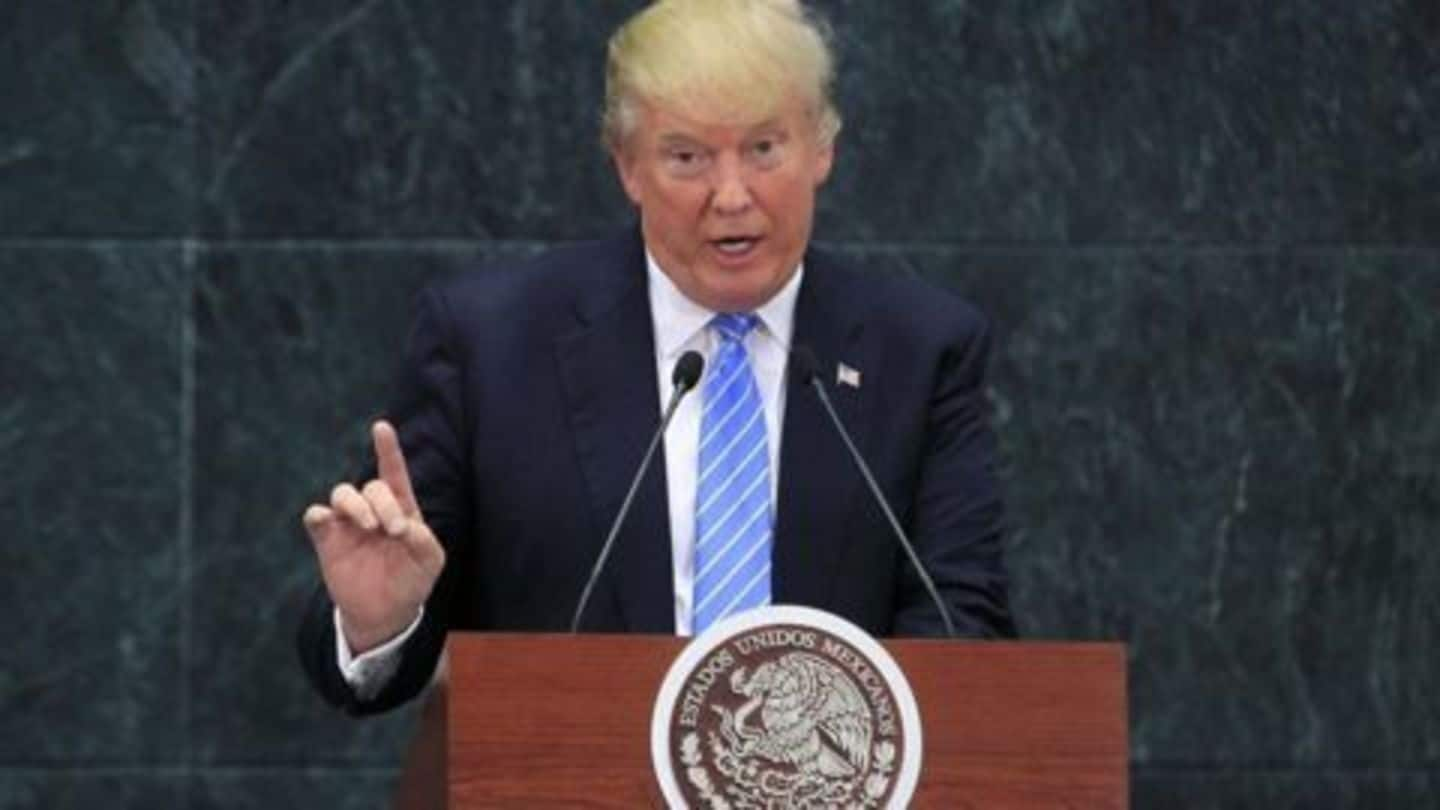 Condemning Hillary Clinton's foreign policy plans, Republican Donald Trump stated that her policy options in Syria would pave the way for World War 3. Reiterating Russia's stance on the matter he said the US should focus on defeating ISIS and not on replacing Assad's government. Trump also lambasted the Republican Party for not uniting behind him for the elections.
Donald Trump lays out his foreign policy
Donald Trump detailed his foreign policy in a major speech, a day after his resounding win in five US primaries - Connecticut, Delaware, Rhode Island, Maryland and Pennsylvania. Trump, the front runner for the Republican candidacy in the 2016 US presidential race, proposed a sweeping redirection of America's global role. The billionaire businessman said he would pursue an "America First" policy.
Out of the 1237 delegates required for the Republican Presidential candidate nomination, Donald Trump has so far won 987, falling 250 delegates short.
Trump calls Obama's administration a 'disaster'
Trump called President Obama's foreign policy "a complete and total disaster" with "no vision, no purpose, no strategy." He held Obama and Hillary jointly responsible for "reckless and rudderless" policies in the Middle East. Trump lamented American "arrogance" and "chaos" caused by the toppling of dictators in Egypt and Libya, and assailed former secretary of state Hillary Clinton for her role in the latter.
Trump's anti-immigrant rhetoric, yet again
Stressing a link between immigration and US security, yet again, Trump insisted that US "must stop importing extremism through senseless immigration policies." He also said that America must change trade immigration and economic policies to make its "economy strong again and put Americans first again."
According to Trump, only four of the 28 NATO members are paying the required 2% of GDP. "The countries we defend must pay for the cost of this defence," he said. "If not, the US must be prepared to let these countries defend themselves. We have no choice." Trump added that he would seek to reshape NATO's structure for 'rebalancing' US financing towards it.
Plans to rebuild relationship with Russia, China
Trump said he would boost relationships with Russia and China. "Some say the Russians can't be reasonable," he said. "I intend to find out." He added that China would be instrumental in holding back North Korea's nuclear ambitions.
Trump on ISIS and Iran nuclear deal
Promising to eradicate the Islamic State, Trump said that the days of ISIS 'are numbered' under his administration. He also added that he would work closely with US allies in the Middle East to combat extremism. Reiterating his opposition to last year's nuclear agreement with Iran, Trump claimed that the deal was a 'humiliation' at the hands of Iran and weakened American global leadership.
Trump: Will use India's help against Pak
Republican presidential front-runner Donald Trump said India can help out the US in dealing with the "problem" of "semi-stable" nuclear-armed Pakistan. He made the statements while responding to questions, after outlining his foreign policy for the US. Speaking about Pakistan's internal instability he said, "if you look at India and some of the others, maybe they will be helping us out."
Trump open for talks with North Korea
US Republican presidential candidate Donald Trump says he is willing to meet North Korean leader Kim Jong-un to discuss Pyongyang's nuclear programme. Such a meeting would mark a significant change of US policy towards the politically isolated regime. He said he would pursue face-to-face talks with North Korea and added that he would also put pressure on China to keep North Korea in check.
Trump vows to cancel Paris climate agreement
Donald Trump has vowed to cancel the historic 'Paris Climate Agreement' and stop US donations for UN global warming programme. The statements were made as part of his proposed "100-day action plan" if he is sworn in as the next US president. Seeking to assert US resource dominance, he said "under my presidency, we will accomplish complete US energy independence."