Theresa May to meet Wall Street Bankers
Theresa May to meet Wall Street Bankers
Written by
Ramya Patelkhana
Jan 19, 2017, 07:24 pm
3 min read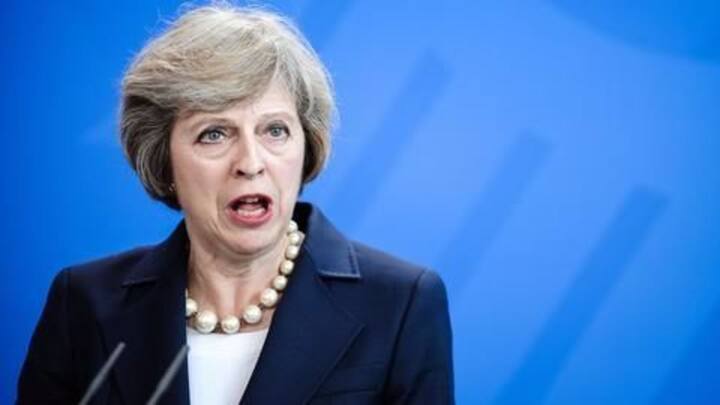 Theresa May will meet some of Wall Street's biggest firms after banks threatened to move jobs out of UK amidst Brexit. This week, the Britain Prime Minister will hold talks with the head of Goldman Sachs, Morgan Stanley, JP Morgan and asset manager Blackrock. The meeting is set to happen at the World Economic Forum in Davos.
About the World Economic Forum
In 1971, an academic, economic and management conference chaired by Klaus Schwab called European Management Symposium began under European Management Forum in Davos. Over the years it grew as politicians, leaders, CEOs, business executives, etc. started attending; in 1987, it became the World Economic Forum. Global powers meet, make deals, mull over major world challenges and how to solve them at the annual meeting.
Leaders from around the world attend the World Economic Forum annual meeting in Switzerland's Davos. Over the decades, the tiny village of Davos has become a place for people from different countries with different interests to get together.
Important and relevant issues of the day
World Economic Forum (WEF) pulls together a galaxy of high-profile individuals and its theme depends on the most important and relevant issues of the day. In 2016, the Forum's focus was on "Mastering the Fourth Industrial Revolution". This year, the world is in turmoil as it is witnessing referendums and elections where people have taken a stand to be counted.
Responsive and Responsible Leadership
The referendums, elections—Brexit, Donald Trump's election, Italian public vote— reflected the fear, helplessness, and uncertainty of individuals as income inequality and unemployment increased. This year's theme is "Responsive and Responsible Leadership". The Forum would discuss how to ensure corporate profit growth goes hand-in-hand with inclusive development and focus on creating equitable growth so that everyone, including people, has a stake in the future.
The topics on the agenda this year include the rising inequality, impact of technology on the workplace, gender identity and genetics, employment gender gap, terrorism in the digital era, climate change, and challenges for the new US administration.
Over 100 prominent attendees from India
Over 3,000 heads of business, government, and international organizations are attending the five-day annual meeting this year. Union Ministers Nirmala Sitharaman and Nitin Gadkari, NITI Aayog's Arvind Panagariya, and Andhra Pradesh CM Chandrababu Naidu are among 100 other prominent attendees from India. Key topics of discussion include PM Modi's demonetization, India's anti-corruption and tax reform programs and how inclusive their results could be.
2017 World Economic Forum — Responsive and Responsible Leadership
The 2017 World Economic Forum (WEF) kicked off at Davos; Chinese President Xi Jinping set the tone for the five-day annual conference with an impassioned speech. The first day focused on geopolitical shifts facing the world. Xi delivered a strong defense of globalization saying that China would seek to usurp the US's role as the champion of free trade and open markets.
John Kerry defends Obama administration's track record
Defending Obama administration's track record at the conference, outgoing US Secretary of State John Kerry said Trump administration wouldn't quickly reverse some of Obama administration's diplomatic achievements. He added if Trump dismantles Iran nuclear deal, other countries involved in the deal would keep the deal leaving the US "the odd-person out". In a message to Europe, he said: "Europe's got to believe in itself."
Actor and activist Matt Damon spoke on the issue of clean water and supporting clean water charity. Actor Forest Whitaker, singer and UNICEF Ambassador Shakira, and violinist Anne-Sophie Mutter were honored with 'Crystal Awards' for their charitable and socially-minded activities.