Bengaluru: Private doctors on indefinite strike from today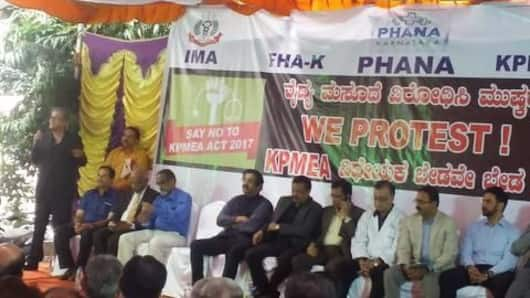 About 6,000 private hospitals/clinics in Bengaluru have shut down their OPD services and elective surgeries indefinitely in protest against amendments proposed to the Karnataka Private Medical Establishments Bill.
This has caused major inconvenience for the public; according to reports, at least two people have died due to unavailability of medical aid.
Meanwhile, leaves of all government doctors have been cancelled for now.
In context
Bengaluru: Private hospitals to shut OPDs from Thursday
Bill
The proposed controversial amendments to the KPME Bill
The Karnataka Private Medical Establishments (Amendment) Bill, 2017, tabled in the Karnataka Legislative Assembly in June, empowers the government to regulate and fix rates of medical services offered by private hospitals.
Among the proposed amendments are restraining hospitals from demanding advance payment from patients in case of emergency treatment.
Anyone flouting rules can be penalized.
Government hospitals were kept out of its purview.
Status
Doctors assure emergency services to continue
Protests against the amendments have been going on since long, including by the Karnataka chapter of the Indian Medical Association.
But as 22,000 doctors in Bengaluru's private hospitals join in, there was chaos: long lines were seen at OPDs as unaware patients were taken by surprise at the development.
However, doctors have assured they will continue emergency services.
Love Bengaluru news?
Stay updated with the latest happenings.
Notify Me