Bengaluru: Man rescued after 51hrs, to be booked for trespassing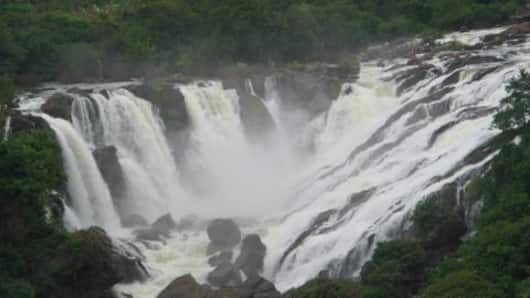 In a freak incident, a Bengaluru man fell into a ditch at Karnataka's Gaganachukki waterfalls on Saturday afternoon.
Rescued by the police after two days, he's likely to be booked for trespassing restricted forest area.
Khader Pasha, 37, who was stuck on a boulder for nearly 51 hours, claims to have survived by only drinking water from the falls.
Read on to know more.
In context
Trespassing charges on Bengaluru man stuck at waterfall
Incident
Bengalurean slipped from 300 ft, got trapped between two boulders
According to The Hindu, Pasha, who hails from Bengaluru's Kadirenahalli, visited a dargah near the falls on Saturday.
He then started climbing down Gaganachukki, reportedly slipped from 300 ft at 3:30pm, got trapped between two boulders and injured his leg.
He was finally rescued by locals and police at 5.30pm on Monday. Police suspect that Pasha might have been inebriated when he slipped.
Aftermath
Cries for help went unheard for two days
Pasha's cries for help went unheard for two days because of the roaring sound of the gushing waterfalls. He, however, got visitors' attention on Monday by waving his jerkin and was soon rushed to a local hospital.
Meanwhile, a report has been sent to the Range Forest Officer for booking Pasha over illegal trespassing. He might also be charged under the Indian Penal Code.
Love Bengaluru news?
Stay updated with the latest happenings.
Notify Me
Measures
Dangerous to trek and swim at Gaganachukki waterfalls
Pasha isn't the first person to have been in danger at the Gaganachukki waterfalls.
Visitors are often warned against trekking and swimming at the waterfall, infamous for whirlpools, deep pits and slippery boulders.
Amarnath, a 50-year-old resident of Karnataka's Chickballapura drowned at the site on Tuesday.
The state government will now install safety railings, chains, and deploy guides to ensure greater safety of tourists.