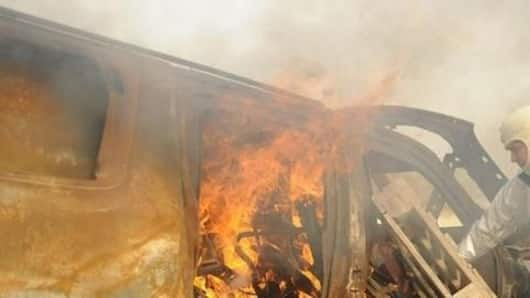 Bengaluru woman and son charred to death in car fire
A 30-year-old woman and her four-year-old son were charred to death inside their Maruti Ritz car after it mysteriously caught fire in the basement of their apartment in southeast Bengaluru's Whitefield area on Friday.
According to police, the woman, Neha Varma and her son Param, were residents of Sumadhura Apartment and drove into the basement to park the vehicle after returning from an outing.
No one realized mother-son duo were trapped inside burning car
Shortly after Neha along with her son drove to the apartment's basement, the security guards heard a loud blast and rushed to the spot to see the car engulfed in flames. Even though the guards tried to douse the blaze, the flames kept leaping up.
However, at that moment, no one realized that the mother-son duo was trapped inside the car, said the police.
Police are investigating the cause of the fire: Report
As the security guards could not douse the fire even after throwing water on the burning vehicle, the fire services department were informed, following which they arrived within six minutes and put out the fire.
It was only after the fire was doused, the charred remains of the mother and son were found.
As per reports, police are investigating the cause of the fire.