Karnataka loses 2,410 medical seats after MCI inspection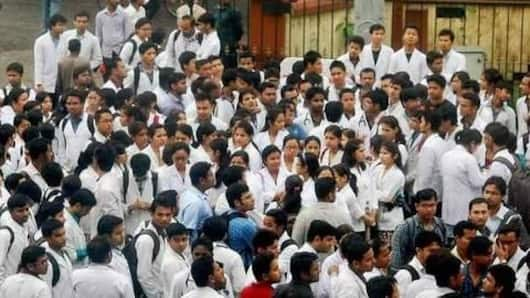 Lending a massive blow to Karnataka, the MCI has denied renewal sanctions to eight medical colleges in the state.
Additionally, eight colleges which were to be set up, most of which were to be government-run, were also denied approval.
So Karnataka loses 2,410 seats total, tarnishing its image as India's 'medical education hotbed.'
Infrastructural deficiencies and staff crunch were prime reasons behind MCI's decision.
In context
Karnataka loses major chunk of medical seats
Details
State-run colleges face maximum refusals, in both sanctions and renewal
Out of the colleges that have been refused renewals, four are state-run, including Koppal Institute of Medical Sciences (KIMS) in North-Karnataka.
The rest four, including Bengaluru-based 55-year-old St John's Medical College and three others in Vijayapura, Kolar and Tumakuru, are privately-run.
The eight new colleges, seven of which were to be state-run, were to have an intake of 150 students each.
Reactions
Most protest refusals, some will move SC, some will wait
The Medical Council of India (MCI) had carried out inspections earlier this year, which led to the cancellations.
Almost all colleges are protesting the refusals, with some like St John's and Oxford Medical College planning to approach the Supreme Court.
They might be joined by the state medical education department.
Others, meanwhile, will wait for the MCI's permission to start admissions.
Love Bengaluru news?
Stay updated with the latest happenings.
Notify Me
Counting losses
Denying KIMS' seat-increase proposal the 'only loss' for government
When it comes to state-run medical colleges, the government considers the permission denied to KIMS' seat-increase proposal as the only loss.
V Manjula, Principal Secretary, Medical Education, admitted that recruiting professors for KIMS is difficult as the college is situated in Koppal, which have accessibility issues.
This year, with the elections in place, it became all the more difficult, she said.
Reasons
During inspection, staff members not present, some posts vacant: Manjula
Manjula further said at the time of inspection, some key posts were vacant and some staff members weren't present.
That's why MCI enlisted 'lack of sufficient staff' as one of the primary reasons.
Talking about the other seven planned government-colleges denied sanction, Manjula said it was inevitable as "we didn't pursue the issue of approval aggressively" and "decided to strengthen existing medical colleges."
Fraud
Last year, three Karnataka colleges were debarred for false claims
In 2017, the MCI had prohibited three colleges from taking admissions for the next two years for a significantly severe false claim: they were passing off healthy people as patients.
The institutes in the dock for this violation were Sambharam Institute of Medical Sciences in Kolar; Akash Medical College in Devanahalli; and Shridevi Institute of Medical Sciences in Tumakuru.
Karnataka has the country's maximum number of medical seats
With 56 colleges and 12,000 seats, Karnataka has India's highest number of medical seats, including 8,750 in MBBS. When it comes to MBBS seats, Maharashtra and Tamil Nadu come in the next two spots. Most asked questions
What is the reputation of Rajarajeshwari Medical College?
What is the reputation of Rajarajeshwari Medical College?
Asked on 17-06-2018 by Mandeep Sarna
Answered by NewsBytes
Raja Rajeshwari Medical College and Hospital, Bangalore is a Private medical college approved by the Medical Council of India. It is affiliated to Rajiv Gandhi University of Health Sciences, Bangalore. It offers various undergraduate, postgraduate and diploma courses. For more details about this college, you can check this link.