North Bengaluru witnesses roaring days ahead of Aero India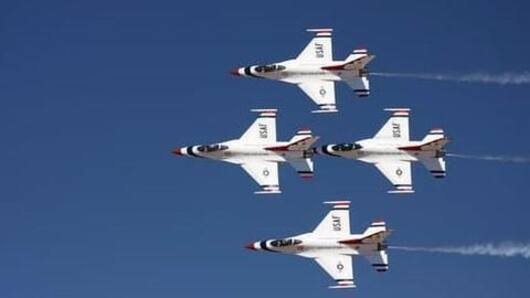 Bengaluru residents are spending noisy days as jets keep roaring by ahead of Aero India, scheduled from February 14 at Yelahanka airbase.
There were massive traffic-jams due to delayed movement on NH-7, as vehicles kept stopping to look at the air-stunts being performed.
The IAF helicopter display-team, Sarang, and the Scandinavian SkyKat team are among prime-attractions.
Read what else is making news in Bengaluru.
In context
Updates from in and around Bengaluru
13 Feb 2017
Karnataka assembly passes bill allowing 'Kambala'
Karnataka Assembly passed a bill permitting 'Kambala' races and removed the court stay.
The 'Kambala' sees buffalo pairs race one another in paddy fields as a way to thank Gods for protecting animals from diseases.
Government clarified the bill is intended to promote tradition and culture and to ensure continuance of native breeds of cattle.
Corruption
Alleged Rs 65-crore scam in Bengaluru steel flyover
Karnataka BJP president B.S. Yeddyurappa has alleged that Karnataka CM Siddaramaiah received Rs 65 crore from the promoters of a proposed steel flyover in Bengaluru.
Total commission received by promoters of the steel flyover by various people was reportedly Rs 150 crore.
All these transactions are listed in a diary of Siddaramaiah's close aide, Congress MLC Govindaraju, which was seized by the ED.
Love Bengaluru news?
Stay updated with the latest happenings.
Notify Me
Jayamahal Road
Some trees on Jayamahal Road to be translocated, not cut
After major backlash on the proposed felling of trees for widening of Jayamahal Road, the BBMP has decided to translocate, rather than cut down, at least 50 trees.
The project, in collaboration with the Institute of Wood Science and Technology, aims to spend Rs 1 lakh on each tree.
Over 840 trees had initially been identified for felling, said BBMP Commissioner N. Manjunatha Prasad.
JC Nagar
JC Nagar tense after place of worship vandalised
Three men - Tabrez, Nayeem and another absconding suspect - allegedly damaged a place of worship in Munireddy Palya. Those present caught one of the vandals and handed him to police.
The two arrested claimed they were drunk during the incident, but police are still investigating.
Police officers from the north and west divisions, six KSRP and three CAR platoons have been deployed to maintain peace.
Public smoking
Govt to increase penalty on public smoking to Rs 1,000
The government has decided to increase the penalty for smoking in public places by up to 500%, from the current Rs 200 to Rs 1,000.
Despite laws against public smoking, tobacco consumption at places like railway stations, hospitals etc have reportedly increased.
Penalty on sale of tobacco to minors, particularly near schools and colleges, will also be increased from Rs 200 to Rs 1,000.
KIA
Alternative road connecting Begur to KIA opened
A road connecting Begur to KIA via Bagalur, Mylanahalli and Sathanur was thrown open to the public on February 13, ahead of Aero India, to ease traffic woes.
However, contrary to claims of a 100-ft-wide six-lane, it is a 50-ft-wide kachcha road, on which work continued till February 12 evening.
Cops will be stationed to guide commuters. Work will likely be completed by March.
Govt employees
Govt employees' association warns against ill-treatment of family
Karnataka State Government Employees' Association has warned its members of punishment if they ill-treat their spouses and families.
This comes in the wake of excessive complaints of extra-marital affairs, ill-treatment of spouse or children, abuse of parents and the like.
The association feels an official order against such practices could motivate government employees to "live up to their familial commitments".
Vijayapura
Woman stripped publicly in Vijayapura for supporting suspected murderer
A mob in Sindagi town in Vijayapura stripped a woman publicly for supporting Renuka, who is suspected to have murdered her husband Shrikanth.
Shrikanth's kin allege Renuka killed him over an extra-marital affair. When she was summoned to the police station, the victim accompanied her.
People who attempted to rescue her were allegedly thrashed too. The victim has refused to file a complaint.