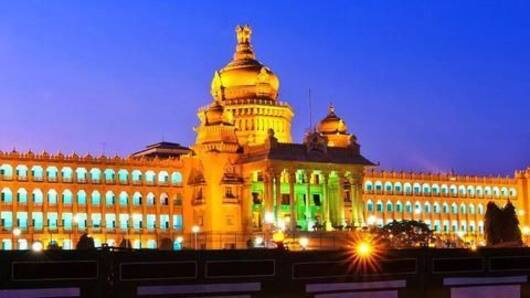 15 vehicles were stolen in Bengaluru everyday in 2014-2016
Data obtained from the Bengaluru police states that 16,149 cases of vehicle theft were registered between 2014 and 2016.
The figure stands at approximately 5,400 cases being registered annually and 14.7 cases registered everyday; 80% of these vehicles were two-wheelers.
Of these, a mere 4,163 stolen automobiles (17%) were recovered.
To know more about what's happening in Bengaluru, read on!
Bengaluru walks towards fitness
Approximately 12,000 Bengalureans turned up for the Max Bupa Walk for Health despite of it being organized on a Sunday.
The walkathon started off at Sree Kanteerava Stadium and was organized in collaboration with the Times of India.
MD and CEO of Max Bupa Health Insurance, Ashish Mehrotra said that the walkathon's purpose was to make citizens health-conscious by changing their mindsets.
Service in Chennai-Bengaluru trains remains sub-standard
A study titled 'An approach to prioritize customer-based, cost-effective service enhancements' was published in 'The Service Industries Journal' in 2016.
It studied passengers' comfort in AC coaches of trains running between Chennai-Bengaluru.
The study showed that toilets in the high-priced Shatabdi are hardly ever cleaned.
352 passengers were surveyed, all of whom cited cleaner toilets, greater safety and quality food as their top priorities.
Love Bengaluru news?
Stay updated with the latest happenings.
Yes, notify Me
Wife kicks husband in the groin resulting in death
According to reports, a 35-year-old woman allegedly kicked her husband who was HIV+ in the groin leading to his death.
According to Nirmala Kumar, her husband would repeatedly badger her for having sex without using protection despite of his condition.
Nirmala allegedly kicked Udhay Kumar while retaliating to the verbal abuses and beating she received after refusing sexual intercourse.
Local boys Kohli and Kumble can decide Bengaluru test's fate
After the Pune test, India will face Australia again in Bengaluru on 4th March.
In terms of runs, the Pune test was Kohli's worst loss at home.
His familiarity with the Chinnaswamy Stadium, Bengaluru, is being relied upon by the host team to win the second test against the Australian cricket team.
Bengaluru is also the home of Indian cricket team coach Anil Kumble.
Police denies cab drivers permission to hold hunger strike
Cab drivers in Bengaluru have been protesting against cab agglomerates Ola and Uber since the last four days.
On Monday, they wanted to hold a demonstration and hunger strike at Bannappa Park on KG Road, but were denied police permission.
The drivers' demands include removal of dynamic pricing models, fixing of tariff and reducing the number of trips required to obtain incentives.