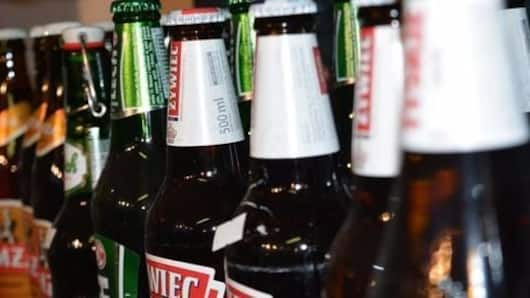 Dry days ahead for Karnataka's liquor industry
Manufacturing-units of liquor industries in Karnataka are dependent on borewells, which have survived four successive years of drought.
According to a senior geologist at Karnataka Groundwater Directorate, if Karnataka doesn't experience rain in the next one month, 70-80% of borewells will completely dry up. This may lead to drop in manufacturing of liquor.
Read on to know what else is making news in Bengaluru.
Bengaluru slips down by 4 ranks in annual city survey
Credits:
According to the Annual Survey of India's City Systems (ASICS), in 2016, Bengaluru slipped down by 4 ranks to 16th place from 12th in 2015.
The survey ranked 21 major cities from 18 states of India among 83 parameters from the City-Systems framework.
With regards to Bengaluru, the survey displayed numerous inadequacies in governance leading to unsatisfactory public service delivery.
Youth tries to smuggle gold, gets caught at KIA
A 22-year-old man from Kerala tried to smuggle gold into Bengaluru by flying in with flasks, computer motherboards, solar panel chargers, a woman's purse and a wrist watch made with components of gold.
According to customs officers at the Kempegowda International Airport, the youth attempted to smuggle 1.47 kg of gold worth more than a lakh.
His behavior was found suspicious during passenger profiling.
Love Bengaluru news?
Stay updated with the latest happenings.
Yes, notify Me
Karnataka may experience downfall in mango production
State horticulture department officials say Karnataka can witness a 25% drop in the production of mangoes.
This is because the state is currently facing one of the worst droughts in decades, and with a continuous increase in temperature, production can be hit with a 40% drop.
Actual mango production may be 7-8 lakh tonnes as opposed to the expected 11 lakh tonnes.
City's waste collector turns into a businesswoman
Annamma was 10 years old when she started following her grandmother as a street-waste collector.
Today, she's the city's first waste collector who owns a truck for door-to-door collection of dry waste.
In 2013, Annamma invested in a dry waste collection center (DWCC) and today, she manages 2 tonnes of dry waste daily.
Annamma is now a successful entrepreneur in her sector.
Engineer kills wife, daughter, then commits suicide
According to the police, 36-year-old engineer poisoned his wife and daughter and hung himself to death in Yelahanka, northeast Bengaluru.
Bodies of Amit Kumar Jha, his wife Meenakshi and daughter Manya were found in different rooms.
Reports also said that Amit had lost his job 5 years ago, after which he had taken to drinking which caused constant fights between the couple.