Bengaluru
Bengaluru third cheapest city to live in globally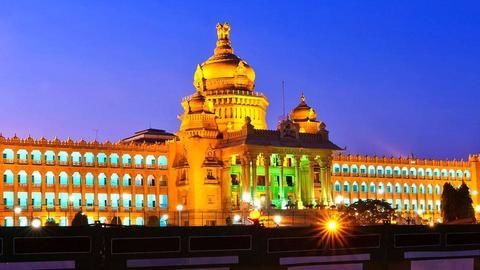 A report compiled by the Economist Intelligence Unit (EIU), an arm of The Economist Group declared Bengaluru the third cheapest city to live in across the globe.
EIU conducts conducts the 'Worldwise Cost of Living' survey, comparing over 400 individual prices across 160 categories including food, clothing, drink, household supplies, personal items, transport, rent, bills etc.
Tap in to read more news from Bengaluru!
In context:
News from Bengaluru
22 Mar 2017

Bengaluru third cheapest city to live in globally
'Start-Up India'

Fewer start-ups turn up for campus recruitment in Bengaluru
Indian Institute of Management (IIM), Bengaluru witnessed a reduced number of start-ups that turned up for campus recruitment this year.
Apart from that, students graduating this year too, prefer entering established ventures instead of exploring the uncertainties of start-ups.
According to the management of IIM-B, recruitment from start-ups this year was half of what it was in 2016.
Love Bengaluru news?


Stay updated with the latest happenings.
Agriculture

Cost of alphonso mangoes to rise this year
Prices of alphonso mangoes in Bengaluru are expected to rise up 20% more than last year's Rs. 60/kg price.
The Karnataka State Mango Development and Marketing Corporation has stated crop-damage during the flowering season as a reason for the same.
Total cultivation of mangoes has also reduced by 30% from last year's 13.5 lakh tonnes.
Mangoes this season are expected to cost Rs. 70/kg.
Protest

Anganwadi workers camped overnight at Freedom Park
Thousands of Anganwadi workers (some along with their children) spent Tuesday night at Freedom Park.
They organized themselves on the basis of the districts they hailed from and slept on one of Bengaluru's busiest roads.
Varalakshmi, President of the Karnataka Anganwadi Workers' Association said the agitation would continue unless the workers receive a "fruitful outcome."
BBMP

BBMP budget expected to be higher this year
The Bruhat Bengaluru Mahanagar Palike (BBMP) budget which is going to be presented on Saturday is expected to be 40% bigger than last year.
However, actual spending of the BBMP has never exceeded more than half its budget since the last four years.
In 2016-17, BBMP's budget size was Rs. 9,300 crore, whereas they spent only 60% of it that is Rs. 5,631 crore.
Namma Canteen

Government devises draft menu for Bengaluru's Namma Canteens
The Namma Canteens set to be opened in Bengaluru now have a rough menu which the State Government decided.
According to the menu, the breakfast will comprise of pongal, upma, avalakki bath and chow chow bath.
Lunch and dinner menus include rice, sambar, vegetable dish, pickle and buttermilk.
Selling idli for breakfast was deliberately avoided as most street-eateries already sell them at Rs. 5/plate.