Bengaluru
Bengalureans should prepare for a week of flaming heat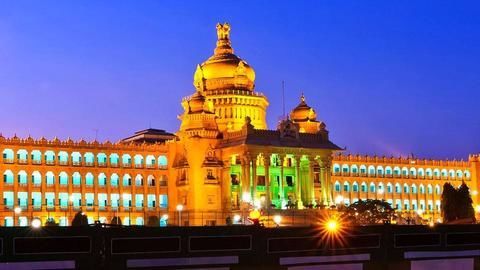 Bengaluru has been categorized along with 44 other global cities that will witness the worst heat stress caused by global warming.
Bengaluru's average number of 'extremely hot days' annually may be doubled in the future.
In a city known for its moderate temperatures and beneficial climate, this is expected to have detrimental effects on the residents' health.
Tap in for more news from Bengaluru!
In context:
What's happening in Bengaluru today?
30 Mar 2017

Bengalureans should prepare for a week of flaming heat
Politics

Investigate 2 Ex-CMs of Karnataka in illegal mining case: SC
The Karnataka Police Special Investigation Team was directed by the Supreme Court to examine the role of two former Chief Ministers of Karnataka-Dharam Singh and Kumaraswamy in the de-reservation of 11,797 sq.km of forest in Bellary, leading to illegal iron-ore mining.
The court, however, stayed investigation proceedings against SM Krishna, another ex-CM who has recently joined BJP.
Love Bengaluru news?


Stay updated with the latest happenings.
Science & Technology

Bengaluru lab invents life-saving product for soldiers
A two-member team from the Centre for Incubation, Innovation, Research and Consultancy (CIIRC) at Jyothi Institute of Technology in South Bengaluru, funded for Rs. 30 crore from Sringeri Mutt, applied for a patent for a product that is able to stop bleeding within 90 seconds.
The product is a carboxyl-linked graphene sponge and was created with the aim of assisting wounded soldiers in combat.
CBD

Grid lines will decongest traffic in Central Business District
Recently, Bengaluru's bustling Central Business District has started featuring yellow grid lines at several traffic junctions.
The Bengaluru Traffic Police defines these yellow, criss-cross lines as 'zero tolerance zones.'
They are painted to caution motorists not to stop in the middle of junctions, causing heavy traffic.
Vehicles found in the yellow grid when the signal lights are 'red' or 'yellow' will automatically be fined.
Women Empowerment

Increase in women-related crimes unrelated to sexual atmosphere: Former CJI
Post the inauguration of a conference on women and child safety, former Chief Justice of India M.N. Venkatachalaiah disregarded opinions of people that suggested that an increase in access to sexual content/promiscuity leads to an increase in crimes against women.
The CJI said the atmosphere of sex cannot be blamed and that crimes against women require "an inquisitorial spirit in the administration of justice."
Politics

Defamation complaint over derogatory post against former PM
Bengaluru's Cyber Police received a complaint by a member of the Yuva Janata Dal(S) against a person for defaming former PM Deve Gowda on social media.
Ramesh Gowda (the complainant) said a person named Jagdish had posted that Deve Gowda was an 'anti-national' and a 'traitor' on his Facebook and Twitter accounts.
An FIR was registered and police are trying to trace the accused.