Bengaluru: Vegetable prices increase due to scarcity of water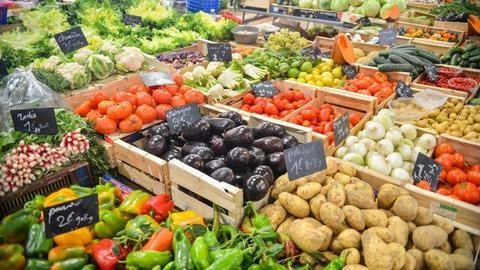 Markets across Bengaluru are witnessing vegetable prices soar as compared to prices last week.
According to vegetable vendors, this is happening due to rising temperatures and diminishing water supply in the city's outskirts, where vegetables are grown.
For example, coriander leaves are being sold at an exorbitant price of Rs. 100/bunch, from Rs. 45/bunch last week.
Read on to know more from Bengaluru!
In context
Stories from Bengaluru
Liquor Ban
After Siddaramaiah's assurance, liquor vendors call off Friday's protest
In order to protest against the Supreme Court's ban on sale of liquor along the highways, retail liquor store owners had planned a bandh on Friday.
Chief Minister Siddaramaiah, however, assured the traders help from his government's side.
Post the Supreme Court order, 70% of Karnataka's liquor stores have incurred huge losses.
Liquor dealers want de-notification of state highways, as was done in Maharashtra.
Weather
IMD predicts rainfall deficit in Karnataka
The Indian Meteorological Department (IMD), announcing its forecast for the Southwest monsoon season this year, claimed that India is likely to face a deficit of rainfall this year.
According to IMD, the probability of Karnataka receiving normal monsoon rainfall is just 38%.
The announcement was made by IMD on Tuesday at 5:30 pm, just minutes after CM Siddaramaiah concluded his drought-management review meeting.
Love Bengaluru news?
Stay updated with the latest happenings.
Notify Me
Politics
CM Siddaramaiah wants action against Goa's Tourism Minister
CM Siddaramaiah wants to take action against the Tourism Minister of Goa, Manohar Ajgaonkar, for the remarks he made against the Lambani community.
The Lambanis are a member of nomadic tribe belonging to Karnataka, and Ajgaonkar wants to dislodge them from Goa's beaches.
Siddaramaiah expressed his displeasure towards the same in a letter to Goa Chief Minister Manohar Parrikar, urging him to take action.
NGT
NGT shuts down industries around Bellandur Lake
The National Green Tribunal has ordered all industries around the Bellandur Lake to be shut-down, imposing a Rs. 5 lakh fine on anyone who dumps waste in and around the same.
The state authorities have been granted one month to rid Bellandur Lake of all its pollutants.
The ruling bench also said industries violating guidelines should be sealed by the State Pollution Control Board.
Arrest
Supervisor arrested for assaulting pourakarmikas
A 45-year-old supervisor was arrested by the Peenya police for assaulting two pourakarmikas in T.Dasarahalli on Tuesday.
The complaint was filed by the pourakarmikas against the supervisor and the contractor.
One of the pourakarmikas alleged that when she asked for last month's salary, the contractor asked the supervisor to hit her.
The other pourkarmika was hit on the head.