Bengaluru bit by yoga bug, from old to young everyone's practising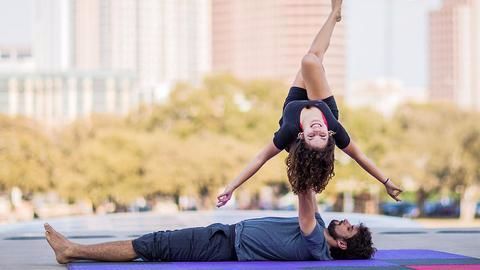 Bengaluru has reached a yoga frenzy with people as old as 79-year-old to young men, women practising yoga and not missing it for a single day.
Housewives to techies now teach yoga part-time/full-time. "It's so fulfilling and lucrative at the same time. I get adequate family time too," said Kavita Reddy, who started her own yoga studio.
Keep reading for more from Bengaluru.
In context
What's up with Bengaluru this Monday!
City
Liquor ban: Karnataka's vendors spared, state highways reclassified
Tipplers and the excise industry finally heaved a sigh of relief after PWD redesignated state highways spanning 1,476.69 km as city roads, saving 3200 liquor vends from closure.
The PWD on June 13 issued a notification renaming the 1476.69-km long stretches passing as city roads.
The SC order had banned the sale of liquor within 500 metres of state and national highways.
Politics
Karnataka CM not to accompany President to Udupi
Karnataka CM Siddaramaiah will not accompany President Pranab Mukherjee to Udupi where Mukherjee is scheduled to lay a foundation stone for a private hospital because that would mean visiting the Sri Krishna Mutt.
Siddaramaiah relation with the Mutt goes a long way. In 2005, while campaigning for Ahinda, he urged the government to take over the mutt administration by bringing it under muzrai department.
Love Bengaluru news?
Stay updated with the latest happenings.
Notify Me
Civic news
Karnataka government to implement RERA by month end
There is good news for Karnataka homebuyers as the government is going to publish the final rules for the Karnataka Real Estate (Regulation and Development) Act, also known as RERA from July 1, 2017.
According to the Act, developers of ongoing projects, who have not availed completion certificates before its commencement, will need to apply to the authority for registration within 3 months.
Infrastructure
GAIL unveils expanded infrastructure for PNG in Bengaluru
GAIL Gas Ltd announced its expanded infrastructure plans for supply of Piped Natural Gas (PNG) across Bengaluru city.
According to officials, underground pipes are in place to supply natural gas to 34,500 households.
GAIL also has its eyes set on integrating 1.32 lakh households within the PNG network.
An app called GAIL Gas has been launched for payment of bills etc.
Politics
Karnataka Congress wakes up to the power of social media
Ahead of the 2018 Assembly elections, Karnataka Congress will revive its dormant social media team since its victory in 2013.
BJP and the JD(S) have already upped their game with the deployment of social media teams.
The Congress will revive its 'poll war room' it had used last time, with the employment of 20 tech savvy minds for the campaign.