Traders' association to build toilets at Bengaluru metro stations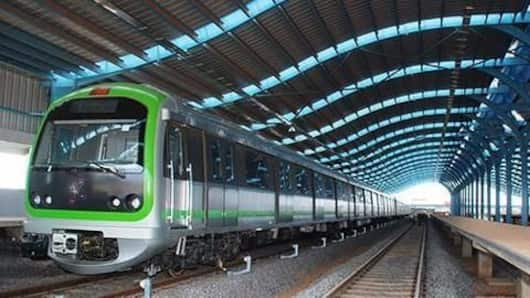 The Chickpet Traders' Association has offered to to build pay and use toilets for passengers at the Metro station and talks are going on with Bangalore Metro Rail Corportation (BMRC) regarding the initiative.
A BMRC official said, ''The proposal is pending permission before our MD. We will give them the space and designs."
Keep reading for more news from in and around Bengaluru.
In context
What's up with Bengaluru?
Politics
Karnataka's East Bengal refugees waiting to be granted SC status
40 years on, the East Bengal refugees of Raichur district are still waiting to be recognized as a scheduled caste community.
The district is home to 1,864 families. They have lived through the tenures of three Chief Ministers and their false promises.
A proposal to grant SC status to the refugees was cleared by the state-cabinet. But now, it depends on the Centre now.
Technology
Mswipe raises Rs. 200 crore from Ratan Tata backed fund
Independent PoS merchant acquirer Mswipe Technologies succeeded in raising Rs. 200 crore from investors led by Ratan Tata-backed UC-RNT fund.
The company will now use these funds to develop merchants' network accepting digital payments across the country.
Based out of Mumbai, Mswipe currently has a payment network of over 2,46,000 terminals spread over 550 cities.
Love Bengaluru news?
Stay updated with the latest happenings.
Notify Me
Empowerment
Karnataka to provide certification to domestic workers
The Karnataka Vocational Training and Skill Development Corporation is planning to launch a skill development programme for domestic workers.
As part of the programme, the authorities have proposed a one-month certification in the workers' area of expertise like cooking etc.
When the course ends, these workers will be given a certificate of expertise which can be used to avail employment in India and abroad.
Justice
Karnataka court orders top cop and bureaucrat to pay compensation
A Karnataka court held the principal-secretary, urban development; the BBMP commissioner, and commissioner of police, guilty of negligence and ordered them to pay a compensation of Rs. 12.70lakh to an elderly couple.
Their son was killed in a road accident caused by faulty humps 10 years ago.
According to bench, his death was not just loss of life, but also of love and affection.
Politics
Karnataka private hospitals bill faces severe opposition
The controversial Karnataka Private Medical Establishments (Amendment) Bill, 2017, which, if passed will empower the state government to decide fees charged by private hospitals, may hit cold storage due to opposition from several legislators.
The bill has now been forwarded to a joint select committee for a detailed study on its impact on private hospitals and the patients.