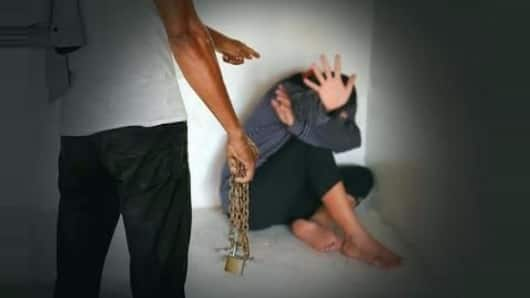 Karnataka: Woman thrashed, stripped, paraded on road for seeking loan-repayment
Savita of Hire Masali village in Vijayapura district was allegedly thrashed, stripped and paraded on the road by another villager Sugura Moulali and his family when Savita sought repayment of loan, which Moulali had defaulted.
Savita demanded Rs. 30,000 which she had lent him.
Police have filed a case against him and his family members.
Tap in for more from in and around Bengaluru.
Bengaluru police launches automated traffic signal system
Bengaluru traffic police has launched a trial run of Vehicle Actuated Adoptive Signals (VAAS) - 'smart' automated traffic signal system that measures vehicular density on roads at the signal and runs accordingly.
This system allows streets with highest number of vehicles to get cleared first.
Currently, VAAS is on trial at Old Madras Road in KR Puram and Om Shakthi Temple junction in Banaswadi.
200 Bengalureans loose over Rs. 10 lakh in ATM fraud
Bengalureans are falling victim to a fast-spreading menace: ATM theft.
In less than a week, about 200 residents have collectively lost over Rs. 10L through illegal withdrawals.
Police suspect gangs are at play. They are believed to be using advanced card skimmers, which read information on debit/credit cards which are being used on the particular ATM where it is installed.
Love Bengaluru news?
Stay updated with the latest happenings.
Yes, notify me
Bengaluru: Hell breaks loose as two women get married
Credits:
In what could be the first 'lesbian' wedding in Bengaluru, a 25-year-old woman got married to a 21-year-old at a temple in Koramangala.
The younger woman's parents have filed a police complaint. The police are now getting the couple 'counselled'.
Same-sex marriages are not legal in the country. The Supreme Court had re-criminalized Section 377 in 2013.
Karnataka: Cloud-seeding project faces financial, clearance issues
With prospects of a normal monsoon fading, the Karnataka government is planning to undertake a weather modification experiment, or cloud seeding in August. It, however, faces funds crunch and clearance issues.
According to sources, the companies have quoted as much as 300% over the department's estimates; Rs. 30 crore had been earmarked for it.
Another hurdle is getting permission from the civil aviation ministry.