Karnataka: DIG Roopa provides more proof about officials being bribed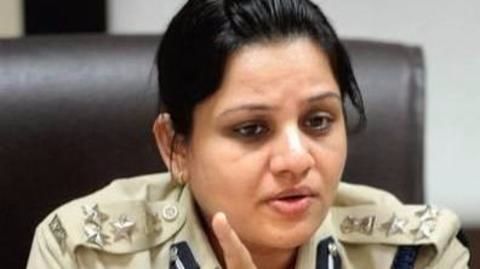 In the wake of ongoing probe following submission of report by DIG (Prisons) D Roopa, 20 convicts were shifted from Parappana Agrahara Central Prison to Ballari prison.
DIG Roopa had submitted a report highlighting condition of prisons and prisoners misusing facilities by bribing officials.
She submitted her second report regarding the same to DGP (Prisons) HN Sathyanarayana Rao.
Tap in for more from Bengaluru.
In context
What is Bengaluru upto!
Fraud
Bengaluru cops arrest three in credit card racket
Three men, including a Sri Lankan national, were arrested by Bengaluru's Central Crime Branch for allegedly stealing money mainly from foreigners, by cloning their debit and credit cards.
Police also recovered 270 cards sans magnetic tape, 114 duplicate cards etc.
They were caught after they bought TVs using a cloned card. However, showroom owner alerted police when money did not reflect in his account.
Public shaming
Mob makes a man parade in skirt, garland of slippers
In yet another case of public shaming, this time a man Shankar Rathod was stripped off his clothes, made to wear a skirt, garlanded with slippers and was then paraded like this through the village over molestation charge in Hittanahalli Tanda, located in Bijapur district.
This was done by people who alleged that Rathod was trying to molest a girl.
Love Bengaluru news?
Stay updated with the latest happenings.
Notify Me
Crime
Karnataka: Man forcefully gets wife's 'girl child' aborted
A woman filed a complaint against her husband Siddappa Charaganavi, from Belagavi, who got her pregnancy aborted under the pretext of getting her treatment from a nearby hospital.
The woman, who was pregnant with a girl child, was taken to Spandana Hospital by Charaganavi claiming that she needed treatment. He instead got the baby aborted without the knowledge of the wife.
Charaganavi is absconding.
Politics
Karnataka CM asserts his Hindu identity, criticizes BJP's Vistarak programmes
With the intent of wooing Hindu voters ahead of 2018 Assembly polls, Karnataka CM Siddaramaiah asserted his Hindu identity while also accusing BJP of intentionally causing communal divide within Karnataka.
"My name is Sidda Rama. I am also a Hindu and BJP workers are not the only Hindus," he said.
He also reportedly indicated that 2018 Assembly polls will probably be his last election.