Bengaluru: With this elevated corridor, Koramangala would be traffic-free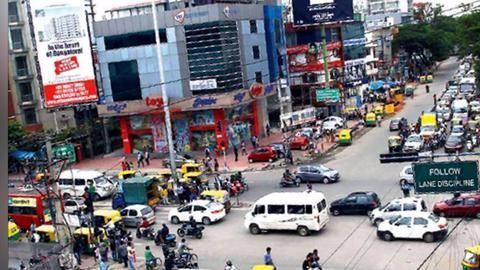 BBMP will kick off work on the long-pending 2.4 km elevated corridor between Ejipura Main Road to Hosur Road on Monday.
The bidirectional corridor project, worth Rs. 204 crore, will take 2 years to complete and will bypass seven junctions.
The project will also ease traffic by 40% and cut travel time by 30 minutes during rush hour.
Tap in for more from Bengaluru.
In context
Bengaluru News this Friday!
Language row
Pro-Kannada activists deface Hindi signs at 41 metro stations
Before metro services started, pro-Kannada activists defaced Hindi signages at 41 stations to protest Hindi imposition in Karnataka.
Six activists have been arrested at KR Market station and sent to judicial custody. Police have also registered ten cases against unidentified miscreants at other stations.
"We gave time to BMRCL and the government. Their inaction prompted us to re-launch the agitation," said an activist.
Negligence
845 govt quota seats 'missing' from NEET list
Karnataka's Medical education department negligently failed to send complete list to Karnataka Education Authority (KEA) which led to KEA uploading an incomplete list that had 845 government quota seats missing.
Medical aspirants who secured good NEET scores were shocked to see this.
"It would mean we go under management quota where fees is 6-8 times higher than that of a merit seat,'' said students.
Love Bengaluru news?
Stay updated with the latest happenings.
Notify Me
Politics
Karnataka CM ends speculations about early polls
To put an end to "early-polls" speculations that gained momentum after Congress-led Karnataka government undertook measures to consolidate vote bank, CM Siddaramaiah cleared the air by saying that elections would be held as per schedule.
"The elections for Karnataka will be held in April 2018. Let there be no doubts about it. I have even informed the high command about the dates," he said.
Monsoon
Karnataka's heavy rainfall claims two lives, normal life disrupted
Three continuous days of rainfall spelled chaos for Karnataka and claimed two lives. There were landslides reported in Belagavi and Chikmagalur, with roads caving in and trees getting uprooted.
A tree fell on a 33-year-old woman from Chikmagalur. She was admitted to hospital and was declared dead.
The other deceased from Belagavi succumbed to his injuries after portion of house wall fell on him.
Malleswaram
Bengaluru cop suspended for letting accused walk away
In an act of gross incompetence, Malleswaram inspector, Venkatachalaiah not only let an accused Syed Aleem go, who tried to sexually assault a 16-year-old boy when he was alone in his house, but also denied about any such incident taking place.
Venkatachalaiah has now been suspended by senior officers for letting Aleem go scott-free. Aleem has now been arrested and booked under POCSO Act.