Double-decker buses to ply on Bengaluru's roads again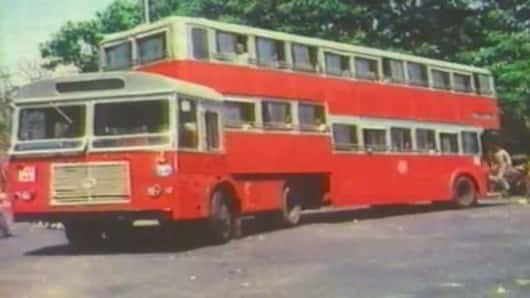 In order to restore Bengaluru's past glory and boost tourism, double-decker buses will be plying on city's roads again by year-end as Bangalore Metropolitan Transport Corporation (BMTC) is going to buy five double-decker buses.
BMTC is on the lookout for a manufacturer in India as these buses have different framework and engine.
Tap in for more from Bengaluru.
In context
Bengaluru News this Monday!
KR Puram
Cops take 10 days to file FIR of sexual assault
Six minors abducted, tied up, physically and sexually assaulted a 12-year-old girl for 30 minutes near the KR Puram railway station.
And if this wasn't enough, the minor and her parents were further traumatized by cops who refused to file the case under POCSO Act, even though doctors confirmed the incident.
In a rather shameful act, police took 10 days to file the FIR.
Details
Kannada film Style Raja director booked for attempted murder
Police arrested film director Harish Kumar and his three associates for allegedly trying to kill his friend, Ashok B.
Ashok demanded Harish to repay the loan of Rs. 3.5 lakh. According to police, Harish contracted the three associates to kill Ashok.
On July 28, Ashok was walking home when three men with sharp objects approached him. But Ashok managed to escape.
Love Bengaluru news?
Stay updated with the latest happenings.
Notify Me
SKID
Bengaluru's first school for deaf celebrates 50th anniversary
23 alumni of Sheila Kothavala Institute for Deaf (SKID), which is Bengaluru's first school for deaf, celebrated its golden jubilee anniversary with great enthusiasm.
Held at Indiranagar Club auditorium, the audience were captivated by performances of hearing- impaired students, videos and presentations divulging the institute's history.
Aban Unvalla, the founder of SKID, was also among those present along with former principals, students.
Jakkur
Bengaluru's animal birth control programme gets a boost
Bengaluru's crisis-ridden Animal Birth Control (ABC) programme got a boost when animal lovers and officials came together at the new Animal Birth Control (ABC) centre in Jakkur and released dual reflective collars that will help prevent dog deaths at night.
Volunteers also signed up for Bangalore Patrolling Squad and they will be trained to work with community dogs.