JioTV for web launched: Watch free live TV on PC!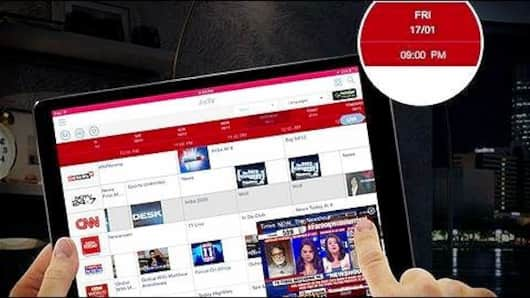 With over 130 million users on its network, Reliance Jio had launched the Web version of its JioTV live streaming service for users to watch live TV for free on their PCs.
The platform was the second service by Jio to have a web-version.
JioTV was to offer 500+ TV channels, including 60 HD channels, in 15 languages.
But, there's a small issue.
In context
Reliance Jio rolls out JioTV for web
Procedure
First, how to access JioTV for web?
For using JioTV's web version, Jio subscribers can go to jiotv.com and log in using their Jio ID and password.
Reports say that unlike the smartphone app, JioTV for the web doesn't require the user to be on Jio's mobile network to access the services.
This means users can watch their favorite channels even while connected to other mobile networks or Wi-Fi.
19 Dec 2017
JioTV web version pulled down hours after launch
Hours after its launch, the web version of JioTV has been taken down due to "technical litigation" issues, reports TelecomTalk, which apparently received the information from Jio's Priority care team.
Its website, jiotv.com, currently displays an 'under construction' message.
Attributing the development to "external sources", the Priority team reportedly said it could take up to a year to fix.
Love Business news?
Stay updated with the latest happenings.
Notify Me
Features
JioTV was to offer several regional language TV channels
The interface of JioTV for the web and that of the smartphone app looked similar.
The JioTV website offered all types of TV channels including sports, news, entertainment, music, movies, etc.
Users could also filter the channels based on their preference for quality (HD/SD channels), language, and category.
They could watch TV shows from the past seven days using the "Catch-up TV" feature.
JioCinema
Meanwhile, watch thousands for movies for free online
Reliance Jio's movie streaming service JioCinema is also available on the web platform now.
The procedure for accessing JioCinema's web version is similar to that of JioTV. Users can head to jiocinema.com and log in using their Jio ID and password.
JioCinema gives Jio users ad-free access to thousands of movies, videos, trailers, etc. in English, Hindi and other regional languages, too.
Impact
Reliance Jio's Internet TV broadband services
The idea behind JioTV was simple- the telco is eager to launch its Internet TV broadband services across India.
It has reportedly been testing the network strength by rolling out pilot services in some cities.
Such a move would have a bigger impact as Jio can connect with more people who don't use smartphones.