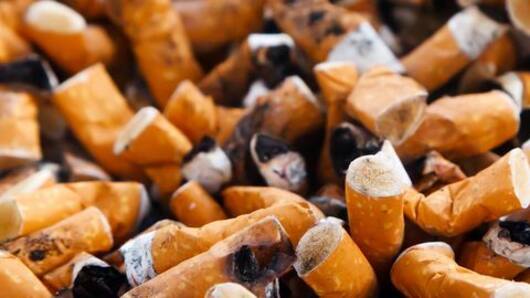 Top cigarette maker promises to quit production. But will it?
How should you feel when the world's biggest tobacco company says it's quitting production?
Phillip Morris International (PMI), a transnational industry leader and the maker of Marlboro, has promised to do just that.
In full-page newspaper ads in UK, PMI said it will replace cigarettes with alternatives like e-cigarettes.
But as they say, if it seems too good to be true, it probably is.
PMI has a market in over 180 countries
PMI, one of the five companies that make up "Big Tobacco", was founded in 1900.
It is the maker of Marlboro, Virginia Slims, L&M and several other local brands in over 180 countries.
In 2008, it separated from its parent Altria Group to have more "freedom" outside the US.
Last year, it reported sales of $26.7bn. The market value stood at $176.2bn.
So what are its latest ads about?
This year, the world's leading cigarette producer has a surprising resolution: to stop making cigarettes and produce alternatives instead, like e-cigarettes.
It claims to have spent £2.5bn in R&D to give people "less harmful, yet satisfying, alternatives to smoking".
"Success in the cigarette business gives us the resources to pursue our ambitious vision." "No cigarette company has done anything like this before," it added.
Love Business news?
Stay updated with the latest happenings.
Yes, notify Me
This is just one among PMI's several "anti-smoking" steps
Credits:
This isn't the first of PMI's apparent attempts at reducing smoking. Last September, it pledged $1bn to the Foundation for a Smoke-Free World, a non-profit, for its fight against burn-based smoking.
It has even announced rewards for its brand ambassadors for convincing people to give up smoking: £50 (Rs. 4,200) per "conversion" from smoker to non-smoker!
More to this than meets the eye?
But it's suspicious when a global tobacco leader promises to stop selling cigarettes.
Contrary to its latest promises, PMI has actively fought proven anti-smoking policies around the world.
In fact, for years, PMI has been secretly working to defeat the first WHO-negotiated tobacco control treaty.
Unsurprisingly, it has given no deadline for when it will actually stop selling cigarettes.
In India, PMI lures youths with free cigarettes despite warnings
Last year, its marketing strategy in India came to light: in complete violation of laws, it was distributing free Marlboro cigarettes at nightclubs and bars frequented by youths.
One of its goals was to ensure "every adult Indian smoker should be able to buy Marlboro within walking distance."
Cigarette sales are declining in several countries, so India's 100mn smokers provide a potential lucrative market.
Are e-cigarettes actually any better than traditional ones?
Moreover, its e-cigarettes, which PMI has been promoting as a healthier alternative, might not actually be safe.
Reuters reported it found many irregularities in PMI's R&D: one researcher confessed he knew nothing about tobacco, while another totally dismissed company-sponsored clinical trials as "dirty".
After a researcher highlighted such irregularities to PMI, she was barred from future meetings.
Of false promises and broken assurances
Credits:
In 1954, the VP said, "[I]f we had any knowledge that we were selling a product harmful to our customers, we would stop business tomorrow."
In 1997, the CEO said they would "shut [production] down instantly" if given evidence linking smoking to lung cancer.
The asked-for medical data was already available, both times.
Will this time be any different? It's unlikely, but one never knows.