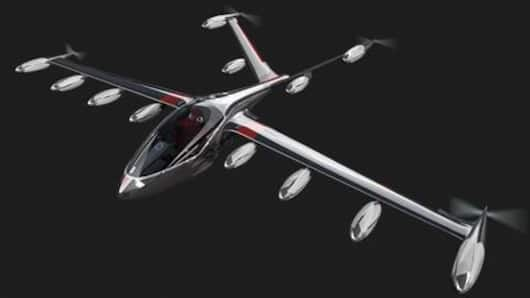 Air taxi start-up, Joby Aviation, raises $100 million in funding
Joby Aviation, a US-based air taxi start-up, has announced to have raised $100 million in funding from the venture capital arms of several big firms.
The investors include names like JetBlue, Toyota, and Intel.
According to media reports, the start-up already has a ready prototype of its promising air taxi which is being tested at a private airfield in Northern California.
Here's more.
The air taxi can carry up to four passengers
The start-up, founded by 44-year-old inventor JoeBen Bevirt in 2009, is quite secretive in nature and has been successful in keeping the make and feel of the electric vertical take-off and landing (eVTOL) vehicle under wraps.
According to limited information that is out there, the air taxi is a plane-drone hybrid with 12 rotors and has room for four passengers.
It has twice the speed of a helicopter
Bloomberg, the only media house allowed into the test facility, had this to say about the short-hop prototype aircraft named Rachel:
"The pilot managed a vertical takeoff, 15 minutes of flight in a 15-mile loop, and a safe landing. The taxi is able to fly at twice the speed of a helicopter while making about as much noise as a swarm of superbees."
Love Business news?
Stay updated with the latest happenings.
Yes, notify me
The air taxis will be used for Uber-like ride-hailing services
Joby ultimately wants to build an autonomous aircraft that can travel 150 miles at a height of few thousand feet on a single charge, and be 100 times quieter than a helicopter.
These air taxis will be mass-produced for ride-hailing services, to be priced in line with Uber and Lyft.
"Our mission is to save a billion people an hour a day," Bevirt said.
In-house engineers make all parts of the air taxi
The company currently has about 120 employees, some of whom work at the private airfield, but most of them work from Bevirt's 500-acre ranch in Santa Cruz.
Joby has in-house engineers to make almost all the parts of its air taxi prototype, be it the body hardware or the flight-control software.
Bevirt is also planning to scale up and hire 100 additional engineers.
19 other companies also developing air taxi plans
Joby Aviation is not the first company to want to develop a flying car-like, eVTOL-based air taxi system. At least 19 other companies are developing similar air taxi plans, including the likes of Boeing, Airbus, and Uber.