Xiaomi India rolls out free one-day Express Delivery service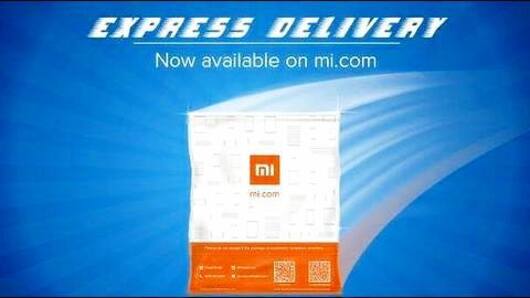 Chinese smartphone giant Xiaomi has launched a new "Express Delivery" service in the country for delivering the orders, placed on the official Mi.com website and Mi Store app, within one day.
Customers can enjoy the one-day delivery service at no additional costs.
The free express service is currently available only in Bengaluru; it might soon be rolled out to other cities, too.
Here's more.
In context
Xiaomi India launches Express service for one-day deliveries
Procedure
How to place a Xiaomi order with Express Delivery?
For availing the one-day delivery service while ordering from Mi.com, customers need to select "Express Delivery" on "Order Confirmation" page.
On the Mi Store app, users can simply choose "Express Delivery" under "Delivery Service" tab after proceeding to checkout and confirm the order.
One can see the option only if they are eligible or the products they have ordered are covered under the service.
Conditions
Conditions for availing the one-day delivery service
Xiaomi customers need to understand that there are certain conditions for availing the Express Delivery service.
In order to get one-day delivery, users must place their order between 9:00 am and 4:30 pm. The service isn't available on Sundays.
Also, Cash-on-Delivery orders are not covered under the Express Delivery. At present, only some Xiaomi products are eligible for the new delivery service.
Love Business news?
Stay updated with the latest happenings.
Notify Me
Products covered under Express Delivery service
Xiaomi's new Express Delivery Service is applicable only for some products, and select pin codes are covered under this option. The list of eligible products includes Xiaomi Redmi Note 4, Redmi 4, Redmi Y1, Redmi 5A, Mi Max 2, and Mi A1.
Details
Xiaomi Mi Bunny WhatsApp subscription service
Xiaomi launched Express Delivery days after introducing WhatsApp-based Xiaomi Mi Bunny subscription service.
With this, it aims to engage better with customers and Mi fans by offering them latest Xiaomi news, updates, service requests, product launches, exclusive deals, sale reminders, MIUI update notifications, and Mi Fan meet-up reminders.
One can subscribe by sending "Xiaomi" to +91-7760944500 on WhatsApp along with their name and city.
Parcel Lockers
Xiaomi partners with Smartbox for deliveries through automated terminals
With its latest move, Xiaomi India seems to be countering the Express Delivery services offered by e-commerce platforms Amazon India and Flipkart. The device maker has been striving to provide better delivery services and consumer experience.
It recently tied up with start-up Smartbox for deliveries through automated parcel terminals across the country. Users can select their nearest Smartbox delivery terminal and pick-up their product.