Punjab National Bank reports Rs. 11,366cr fraud at Mumbai branch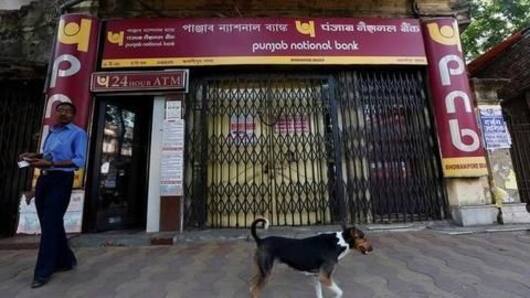 India's second-biggest state-run lender Punjab National Bank (PNB) has reported a $1.7bn fraud (roughly Rs. 11,366cr) at a single Mumbai branch.
The transactions were "for the benefit of a few account-holders with their apparent connivance."
Based on these transactions, other banks also advanced money to them, PNB claims.
Recently, PNB had accused diamond merchant Nirav Modi and kin of cheating it of Rs. 280.7cr.
In context
PNB detects Rs. 11,366cr fraud at single branch
Details
Not known if the flagged transactions affect other lenders
Though it revealed the "contingent" transactions, PNB didn't disclose other details, including names of people involved, how the suspected fraud will impact it, or whether it will affect other lenders.
It's not known if "these transactions are reversed, or if PNB is holding collateral that could back them," said analyst AK Mishra.
It has alerted authorities and would examine if it faces any liability.
Impact
PNB shares fall sharply in the aftermath
These transactions are roughly equal to eight times the bank's 2017 net income of Rs. 1,320cr.
By 11:20am, PNB shared had fallen sharply by 7.5%, heading for the steepest drop since October.
This fiasco can also hamper CEO Sunil Mehta's track record. Mehta took charge last May, a year after 13 Indian lenders including PNB were fined for violating rules on a $1bn foreign exchange.
Love Business news?
Stay updated with the latest happenings.
Notify Me
PNB accused Nirav Modi of Rs. 280cr fraud
Ten days ago, Nirav Modi, his brother and wife were booked by the CBI for allegedly cheating PNB of Rs. 280.7cr in 2017. PNB alleged he embezzled the money on the basis of fake documents with the help of some bank employees.
Stats
PNB reports lower than expected earnings, but reduction in NPAs
Earlier this month, PNB reported lower earnings than expected for the December quarter, but asset quality improved.
The CNBC-TV18 poll had predicted profit growth of Rs. 558.1cr and net interest income growth of Rs. 4,122.9cr.
But the actual figures were Rs. 230.11cr and Rs. 3,989cr respectively.
However, gross (13.31% to 12.11%) and net non-performing assets (8.44% to 7.55%) were lower than the previous quarter.