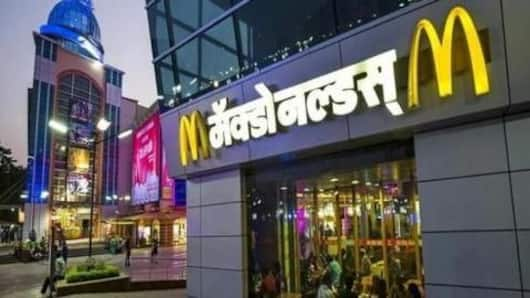 McDonald's launches new "healthier" menu for India
Obesity has increased alarmingly around the world: in 1975, there were 105mn obese people; in 2016, there were 641mn.
India has fallen prey too: from 3.7% in 2014, the percentage of obese Indian adults will reach 5% by 2025.
But what if a prime contributing factor started operating the opposite way?
McDonald's is rehashing its menu for a "healthier" India.
Here's how many calories you are consuming at McDonald's today
Here's how much you are consuming with every bite at McDonald's. According to its own calorie-calculator, a 'small' plate of French Fries contains 203cal, which goes up to 510cal with a 'large' helping.
With a McChicken burger, you get 350cal, and 300cal with an Egg McMuffin.
Note: to burn 250cal, an 85-kilo person would have to weight-lift vigorously for 30 minutes.
McDonald's India now has less oil and more dietary fiber
In a series of tweets, McDonald's explained what's new: Indians can now enjoy whole grain instead of refined flour in wraps, and 40% less oil content in mayonnaise.
There's 25% more dietary fiber in the patties; the McAloo Tikki is now a "balanced meal with the right proportion of carbohydrate, protein and fats"; and the Soft Serve cone is "96% fat-free."
Love Business news?
Stay updated with the latest happenings.
Yes, notify me
#McDFoodStory has now gone viral
LIVE UPDATE: We're listening to all health-conscious people out there! We have replaced refined flour with whole grain. Whole grain wraps are available across all our restaurants. #McDFoodStory

— McDonald's India (@mcdonaldsindia) April 3, 2018
How strong a role does McDonald's play in global obesity?
The role of McDonald's (or fast food) in obesity gained attention when in 2002, two American teenagers sued it for causing their health problems.
McDonald's has actively denied the allegations. "There's nothing wrong with having some fries. Burgers and fries are an American staple," CEO Don Thompson said in 2013.
Still, it has continued introducing "healthier" menus, a concept that has now come to India.
As McDonald's ups its game, why'll rivals be left behind?
This McDonald's initiative began in 2013 at an estimated budget of $34mn. It aimed to launch new menus for 20 of its largest markets first.
The company has been facing rising pressure from Subway, which has promoted itself on a 'be healthy' campaign.
Rival Burger King has also introduced substitutes with fewer calories, though most of these chains are retaining the normal "fatty" versions.
But will this work as brands bombard consumers with addictive-appeals?
Interestingly, most franchises use little-known ingredients to make their food tasty, but are also known to add tiny quantities of addictive ingredients to keep people coming back.
A lot of time and money goes into researching the minutest details to come up with the most alluring product packaging.
And for the vulnerable masses, an ad for most fast foods spells "happy."
If you are still visiting McDonald's, here's what nutritionists recommend
If you are still looking for dinner from McDonald's, you could at least pick some relatively healthier items: as told by nutritionists, try the Egg McMuffin, Filet-o-fish, or Chicken McNuggets, and hope they introduce fruit and veggies in their India menu soon!
It's Kilo Calorie not just Calories
Asked 2018-04-03 22:52:58 by Inder Jain
Answered by NewsBytes
No, it's just Calories. According to McDonald's own calorie-calculator. You can check here