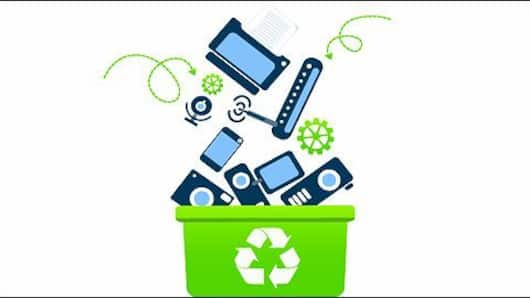 #FinancialBytes: 6 apps/websites that pay you for recycling old electronics
The electronics sector is growing at an unprecedented rate and devices are becoming faster and more sophisticated by the day.
Most people upgrade to newer, better electronic devices but often fail to recycle the existing gadgets in an environment-friendly manner. However, it's essential to dispose of old tech responsibly.
Here are 6 apps/websites that not only help let you recycle old electronics but also earn money.
With ExtraCarbon, sell e-waste, make money right from your home
ExtraCarbon is a popular app (Android, iOS) from Greentooth Technologies which collects recyclable waste, including electronic products.
After registering, users can send pictures, get a quote, place pick-up request, and choose the payment mode; they can also donate their earnings.
It is available in eight cities including, Delhi, Gurugram, Noida, and Ghaziabad.
Users receive shopping credits which can be transferred to Paytm wallet.
Dispose of e-waste conveniently with ECS e-Waste app
ECS e-Waste app was launched by ECS Environment, an e-waste management and recycling company. Users can conveniently dispose of old electronic items and make money using the app.
They can get quotes for their products by uploading pictures; they can either request a pick-up or drop items off at collection points.
Users get rewards in the form of cash, ECS vouchers, or other vouchers.
Love Business news?
Stay updated with the latest happenings.
Yes, notify Me
This website recycles e-waste for you and also pays cash
Karma Recycling is a leading electronics recycler and buyback firm dealing with e-waste. Its website portal allows users to sell working and well as non-working smartphones, laptops, tablets, and other electronic items.
What Karma Recycling does is, it simply buys old electronics and recycles them. Users only need to submit details about their product, get a quote, schedule a pickup, and get paid.
Attero, India's first e-waste recycler registered with CPCB, Environment-Forests Ministry
Attero Recycling allows you to sell your old electronics at the best prices in five easy steps.
Users need to search their product in the items listed on the website, get quotes, provide pickup details, confirm offer, and get paid (by check/bank transfer).
Non-functional items that can't be sold are sent to Attero's recycling unit, India's first integrated end-to-end e-waste recycling facility.
Zolopik offers a good price for your e-waste
Zolopik Recycling is another great option for making money by recycling electronic scrap.
Users should provide device details and choose a city to get started. They can get a quote for their items and also book a pickup or find a list of recyclers in their city.
Users can check the prices for e-waste on the website and choose from three listing plans.
You can encash your e-waste using nCashJunk
nCashJunk is a company that lets you sell your old electronic items that are still functioning; it can also recycle devices which cannot be repaired that can be collected by recycling plants.
Users need to post their product with minimum bid amount on the website after which they can accept one of the received bids.
They can receive money through bank transfer or Paytm.
Why can't this facility be made available in Mysore city?
Asked 2018-05-11 19:11:52 by Dhanush Musical Magic
Answered by NewsBytes
You have to check for different portals if they are working in your city or not. You can simply go their website or app and check for the same.