Petrol/diesel prices hiked for 5th day; expected to increase further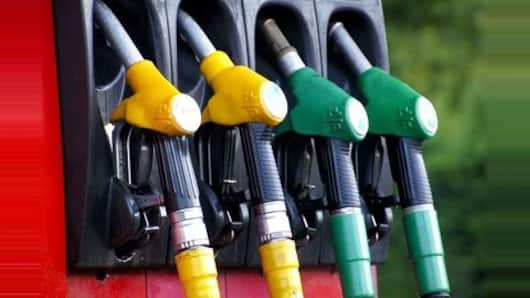 Another day, another hike - petrol and diesel prices have now risen for the fifth consecutive day.
Prior to these hikes, the Indian Oil Corporation's dynamic pricing system had been put on a 19-day hold ahead of the Karnataka elections. The system came back into force on Monday.
With global crude oil prices going up, transport fuel costs are expected to rise even more.
In context
What's with the persistent petrol, diesel price hike?
Latest petrol and diesel prices for Delhi, Kolkata, Mumbai, Chennai
On May 18, per litre petrol and diesel prices in Delhi, Kolkata, Mumbai, and Chennai hit Rs. 75.61, Rs. 78.29, Rs. 83.45, and Rs. 78.46, respectively. Meanwhile, diesel prices in these same cities hit Rs. 67.08, Rs. 69.63, Rs. 71.42, and Rs. 70.80, respectively.
Expected price increases
Prices to increase by at least Rs. 4/litre
Owing to the halt in the dynamic pricing system, oil marketing companies have to increase petrol prices by Rs. 4.6/litre or 6.2%, and diesel prices by Rs. 3.8/litre or 5.8% to earn normative gross marketing margins of Rs. 2.7/litre, said Kotak Institutional Equities.
Additionally, with crude oil prices hitting 2014-highs, and the poor performance of the rupee this year, short-term prices will further increase.
Love Business news?
Stay updated with the latest happenings.
Notify Me
Global oil prices
Meanwhile, what is pushing up global crude oil prices?
For the first time since November 2014, global crude oil prices have climbed to $80 per barrel, on the back of increasing demand and production-cuts by the Organization of Petroleum Exporting Countries (OPEC).
US sanctions on Iran, one of the biggest oil producers in the Middle East, has compounded the problem.
However, price hikes in the medium-term aren't expected to be very steep.
2018 hikes
Petrol, diesel prices have increased by Rs. 5+, Rs. 7+
So far this year, petroleum prices have seen hikes of Rs. 5.64/litre in Delhi, Rs. 5.67/litre in Kolkata, Rs. 5.58/litre in Mumbai, and Rs. 5.98/litre in Chennai.
Meanwhile, diesel prices in these cities have gone up by Rs. 7.44/litre, Rs. 7.33/litre, Rs. 8.15/litre, and Rs. 7.97/litre, respectively.
Petrol and diesel prices in India are determined by global crude oil prices and rupee-dollar forex rate.