Business
Virat Kohli launches his fitness venture- 'Stepathlon Kids'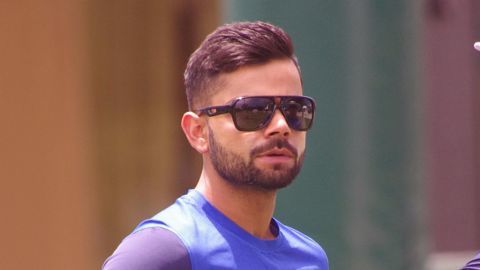 In an attempt to increase awareness on health issues, Virat Kohli has launched his own fitness venture, Stepathlon Kids, in collaboration with a global wellness company Stepathlon Lifestyle.
This new venture would help tackle fitness issues affecting kids by taking them through a 30-day pedometer based virtual race.
Kohli had earlier invested Rs 90 crore in Chisel fitness, a Bangalore based fitness center.
In context:
Virat Kohli launches his fitness venture
Fitness- A new fashion

Fitness Industry witnesses investors
India's fitness industry has seen an incredible growth in the last few years, with people indulging more in fitness activities.
New start-ups have witnessed celebrities and various businessmen investing in their businesses.
While the Indian market is currently dominated by weight loss and beauty treatment services, the fitness industry estimates at Rs. 490 billion, wherein wellness services contribute 40% of their growth.
Fitness made easy

Fitness applications mark a new trend
With fitness becoming popular among Indians, many companies have come up with varied fitness applications, helping one to workout from home.
One of the most popular application is a 7-minute high-intensity circuit training, which shows 7-minute videos for weight loss.
Other applications like the Gympik, Classverse and FitnessPapa also provide one with the option to pick-up suitable gym in and around your area.
Love Business news?


Stay updated with the latest happenings.
Celebrities opt for fitness

Celebrities invest in physical fitness business
Various bollywood celebrities have started investing their money in fitness ventures.
Fitness freak John Abraham has started his own gymnasium chain, JA Fitness.
Hrithik Roshan launched his own apparel brand HRX, further planning to invest in building sports stadiums.
Shilpa Shetty has also jumped into the celebrity physical fitness business by producing and starring in yoga related videos.
Dino Morea installs open air gyms

In an attempt to encourage people to opt for a healthy life, DM Fitness, a company owned by bollywood actor Dino Morea, had installed open-air gyms at Marine Drive. However, these open-air gyms were dismantled soon, following Bombay Municipal Corporation's order to shift them elsewhere.
Kohli promotes fitness

Virat's 'commitment' towards fitness
India's top batsman Virat Kohli has always been seen talking and promoting healthy lifestyle. Lately, he has been taking kids related health issues more seriously.
Last year, Kohli invested Rs 90 crore to start a chain of gyms and fitness centres across India.
While he has invested money in a London based tech start-up Tech Convo, Kohli also co-owns the ISL club FC Goa.
30 Jun 2016

Virat Kohli launches his fitness venture- 'Stepathlon Kids'