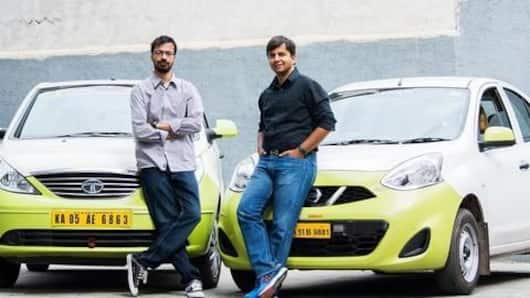 Ola: Began its journey in 1BHK, now worth Rs. 32,500cr
India's largest cab-hailing start-up Ola started its journey eight years back in 2010 from a 1BHK Mumbai apartment as its first office.
Founded by IIT-Bombay graduates Bhavish Aggarwal and Ankit Bhati, Ola brought a 'taxi revolution' in India and today is worth over Rs. 32,500cr.
Let's read the journey of this unicorn in numbers, which currently holds around 65% of the Indian taxi service business.
Ola increased its revenues by 2,400% in just 4 years
The source of revenue for Ola is the commission it charges from drivers.
Over the years, the company's revenues increased from Rs. 51.05cr in 2013-14 to Rs. 418.25cr in 2014-15 and to Rs. 758.23cr in 2015-16.
Ola generated revenues of Rs. 1,286cr in 2016-17, over 2,400% more than what it earned in 2013-14.
However, despite huge revenues, Ola has suffered humongous losses over the years.
Ola's losses hiked by 6,600% from FY14 to FY16
While, if Ola's revenue numbers over the years were staggering, then its losses are nowhere behind.
Ola incurred a loss of Rs. 34.21 crore in 2013-14, then of Rs. 754.87 crore in 2014-15.
Ola remained on the loss-suffering path in 2015-16 with a deficit of Rs. 2,313 crore in its Profit and Loss account, over 6,600% more than what it had registered in 2013-14.
Love Business news?
Stay updated with the latest happenings.
Yes, notify Me
Funding wise, Ola has raised over Rs. 20,000cr till now
Over the period of eight years, Ola has raised a total of whopping Rs. 20,104.5 crore in as many as 14 rounds of funding.
Notably, Rs. 9,396 crore were raised in the last financial year (2017-18).
Ola is backed by 25 investors - out of which 12 are its lead investors including influential ones like SoftBank and Tencent Holdings.
Meanwhile, Ola increased its fleet size by 1,200% in 2yrs
Ola claims to have a fleet of around 50-60 lakh vehicles comprising of autorickshaws, motorcycles, hatchbacks, sedans and SUVs across 110 Indian cities.
Currently, Ola accounts for at least 1 lakh autorickshaws and plans to expand the number to 2.5 lakh in over 110 cities by this year.
Interestingly, Ola had a fleet of just 4.5 lakh vehicles in 2016.
Technology Triumph: Ola and innovation go hand-in-hand
Over the years, Ola has adopted various technological advancements. Let's have a look at some of them.
Apart from providing the GPS and Navigation services, Ola lets riders share their trip details.
Ola offers auto connect Wi-Fi service, identifies popular 'HotSpots'.
Apple's iOS10 users can book Ola cab using Siri.
Ola allows cashless payments through UPI.
The app has SOS button for emergency situations.
Do you know these lesser-known but amazing facts about Ola?
Ola's Founder and CEO Bhavish doesn't own a car and pledges to never own one!
Ola initially started off as weekend-trips package offering website.
It has enough vehicles to create a line-up as long as the distance between Kashmir and Kanyakumari (3,895km).
Ola vehicles cover an average distance of about 43.4L kilometres a day, i.e. over 10 times the distance between Moon and Earth.