Business
Ratan Tata, India's most active angel investor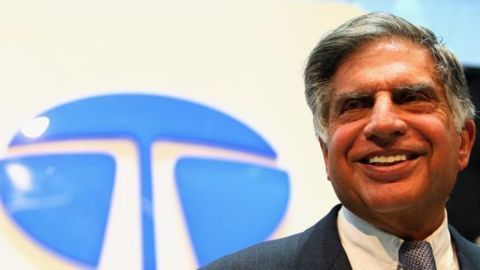 Ratan Tata has left behind many of the leading industrialists to be the top angel investor this year.
He has invested in 14 start-ups like FirstCry.com, Lenskart and KyaZoonga.com.
Other people in the top 10 list included former Infosys executives T V Mohandas Pai and Kris Gopalkrishnan.
Ratan Tata topped the list last year too with 19 investments.
In context:
Ratan Tata - The Jewel of Indian industry
Ratan Tata was born on 28th December 1937 in Surat in Gujarat.
Mr. Tata is an architecture graduate from Cornell University. He studied management at the prestigious Harvard Business School.
He turned down a job offer from IBM and returned to India after his studies to join the family business.
Tata started working with the Tata Group in 1961.
1961

Starting career from the lowest level
When he joined the Tata Group in 1961, he worked on the shop floor in Tata Steel.
He used to shovel limestone and handle the blast furnace.
He became the Director of National Radio and Electronics in 1971.
Even though he gave the company's statistics an upward run, the company was on the verge of collapsing after the National Emergency was declared in 1975.
Love Business news?


Stay updated with the latest happenings.
As a Chairman

Not many supporters in the beginning
JRD Tata named Ratan Tata his successor as the Chairman of Tata Group in 1981.
The decision was not well received by many of the current employees who were working with the group since decades and had become powerful and influential by the freedom given by JRD Tata.
Ratan Tata was also criticised for not having enough experience of handling such a big group.
Achievements

Taking the Group to new heights
Ratan Tata took over as the Chairman in 1991. Within seven years, Tata Motors came out with Tata Indica, the first truly Indian car.
Tata Consultancy Services went public under his leadership and Tata Motors was listed in the New York Stock Exchange.
The company's revenue grew over 40 times under his chairmanship.
Going global

Largest Indian multinational conglomerate
Ratan Tata is known for taking bold decisions for the group, leading Tata Group to different parts of the world.
Tata Group has acquired 22 major companies world wide. Some of them being Tetley Tea and Corus Steel, Jaguar Land Rover and Pierre Hotel.
Tata Group owns India's largest private steel company, largest automobile manufacturer and the largest IT outsourcing firm.
Tata Nano

Dream come true for middle class families
In 2008, Ratan Tata created history by launching the world's cheapest car in India.
Priced at one lakh when launched, Tata Nano won the hearts of several Indians and brought smiles to the middle class families who just dreamt of having a car but could not afford to buy one.
Tata Nano is now exported to Europe and the United States of America.
Love Business news?


Stay updated with the latest happenings.
Retirement

Ratan Tata passed the baton to Cyrus Mistry in 2012 after resigning on his 75th birthday. He is currently the Chairman Emeritus of Tata Sons. Tata started investing in small companies after he resigned.
Awards and Recognition

The list goes on
Ratan Tata has received many awards in his career.
The Government of India has conferred Tata with Padma Vibhushan in 2008 and Padma Bhushan in 2000, India' second and third highest civilian award.
He has received Honorary Citizenship from the Government of Singapore.
Mr. Tata has received Honorary Doctorates from many universities around the globe including IIT Madras, IIT Kharagpur and University of Cambridge.
09 Jul 2016

Ratan Tata, India's most active angel investor
24 Oct 2016

Ratan Tata to step back in as Tata Group Chairman
Tata Sons Board has removed Cyrus P. Mistry as its Chairman and Ratan Tata has been named as the interim Chairman; he will be stepping back at the helm for four months.
The Board has set up a selection committee to identify a successor in four-months.
Cyrus Mistry had been appointed Chairman of the Tata Group four years ago in December 2012.
29 Oct 2016

Tata's funding to start-ups under spotlight
In light of the recent Tata-Mistry tussle, the attention is shifting toward the start-ups that Ratan Tata has funded after stepping-down from the board.
He has invested in Snapdeal, UrbanClap, CashKaro, Paytm, Ola Cabs etc; he has reportedly invested around $0.58 million in 2016.
As he returns as interim-chairman at Tata Sons, speculations are on if this would affect his involvement with these start-ups.
29 Dec 2016

Ratan Tata meets RSS Chief Mohan Bhagwat
Tata Sons Chairman Ratan Tata held a 35 minute meeting with RSS Chief Mohan Bhagwat in Nagpur; neither Tatas nor the RSS divulged details of the meeting.
It is learnt that Ratan Tata also visited Deekshabhoomi, the place where Dr Babasaheb Ambedkar embraced Buddhism.
RSS sources stated that Tata had specifically sought the appointment with Mohan Bhagwat, days prior to his arrival.