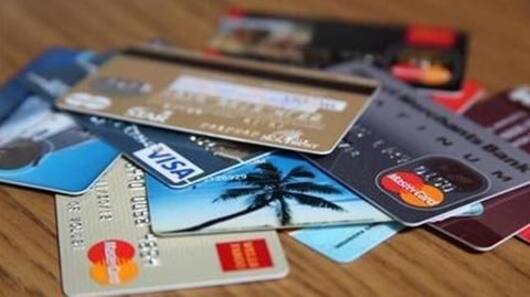 #FinancialBytes: Why you should choose credit cards over debit cards
On the surface, both credit and debit cards are almost identical- both are plastic money, carry 16-digit card number, expiry date and PIN codes.
The difference lies in the way they function. With debit cards, you use your own funds available in your bank accounts, but with credit cards you borrow money from a credit card company.
Here, we decode why credit cards are better than debit cards.
Credit cards give you discounts, cashbacks, rewards; debit cards don't
Credit card companies thrive only if people borrow from them and thus to attract customers they offer a variety of discounts and cash-back options when you choose to make a payment using a credit card.
Credit cards also let you earn reward points on your transactions using which you can claim free gifts, service upgrades, etc.
Debit cards rarely provide such rewards and monetary-benefits.
Credit cards qualify for EMI options; debit cards do not
You can choose to make a payment in the form of Equated Monthly Instalments (EMIs) only using a credit card, as debit cards do not qualify for the EMI option.
But do remember that although EMIs help you to make a hefty payment in instalments, they are inclusive of an interest amount charged on the outstanding amount, according to your EMI tenure.
Love Business news?
Stay updated with the latest happenings.
Yes, notify Me
Credit cards do not make your money vulnerable to frauds
Since with debit cards you use your own money, the maximum spending limit is your total bank account balance, unlike credit cards which have statutory spending limits.
Thus if your debit card gets compromised, you risk losing all your bank account money. However, with a credit card you don't risk losing any of your money but the maximum bank money available as credit.
Credit cards help you build credit score; debit cards don't
When you apply for a loan, the first thing that a lender checks is your credit score. A credit score reflects your credit worthiness i.e. how good you are in paying back your credits taken in the form of loans or by using credit cards.
Thus, being a credit instrument, only a credit card helps you build your credit score and not a debit card.
Choose credit card if you can make timely bill payments
It's a fact that credit cards offer a plethora of benefits over debit cards. But it's also true that with them you borrow money which needs to be repaid by a certain date. If you falter, you need to pay late payment charges and accumulated interest. So, choose wisely!
How does the credit card issuer decide my credit limit?
Asked 2018-06-13 12:02:10 by Anonymous -
Answered by NewsBytes
Your prospective card issuer, at its sole discretion, will determine the Cardmembers' limit and cash withdrawal limit. These limits are communicated to the customer at the time of card delivery. Some key factors that may influence the decision of the card issuer include customer profile, the repayment capacity and CIBIL credit report along with other internal underwriting norms.
What should I do if my credit card gets stolen?
Asked 2018-06-13 12:01:09 by Anonymous -
Answered by NewsBytes
In case you have lost your card or it has been stolen, the first thing that you should do is to block your card to prevent unauthorized transactions. You should call the card issuer's customer care number and inform them of the card loss/theft so that the card is blocked and they can start with replacement card issue procedure.
How do you pay credit card bills?
Asked 2018-06-13 12:00:10 by Anonymous -
Answered by NewsBytes
There are various modes of payments available for you when planning to pay off your credit card bill. Some of them are- Net Banking, Cheque/Draft, NEFT/RTGS, and Cash.
How can I use the reward points on the credit card?
Asked 2018-06-13 11:59:18 by Anonymous -
Answered by NewsBytes
Whenever you make a purchase or shop using your credit card, you can earn reward points on it. The rate of reward point accumulation varies from one expense category to another, as well as, from one bank to another. The accumulated reward points can be exchanged in lieu of a range of freebies and discount vouchers.
I want to apply for supplementary credit cards for my wife and daughter. How many supplementary cards can I have?
Asked 2018-06-13 11:58:32 by Anonymous -
Answered by NewsBytes
The number of supplementary cards allowed tends to vary from one credit card issuer to another. Although, in most cases, you can apply for up to 3 supplementary cards for family members like your spouse, children, parents, and siblings.
What is an add-on card?
Asked 2018-06-13 11:57:06 by Anonymous -
Answered by NewsBytes
An add-on card also called supplementary card, refers to one or more credit cards that may be issued to family members of the primary cardholder. Add on cards share the total credit limit of the primary card account and have the same features as the primary card. Any reward points earned through the add-on card(s) are also credited to the primary card account.
How to know I am eligible for a credit card?
Asked 2018-06-13 11:56:09 by Anonymous -
Answered by NewsBytes
The eligibility criteria for credit cards differ from one issuer to another but there are a few general criteria like- (1)Age should not be less than 18 years old. (2)Either salaried or self-employed (Salary proof/ acknowledge ITR required). (3)Have at least one savings account in an Indian Bank. (4)Have a valid Indian address (5)Qualify the minimum income requirement set by the card issuer etc.
What is the CVV on credit cards for?
Asked 2018-06-13 11:55:35 by Anonymous -
Answered by NewsBytes
The CVV Number is the Card Verification Value. It is a 3 digit number mentioned on the back side of your credit card on the right side of the signature panel. This 3 digit number is an essential part of the verification process especially in case of online transactions. As a part of precaution, the CVV number should not be disclosed to anyone.
What is the difference between Visa and Master Cards?
Asked 2018-06-13 11:55:02 by Anonymous -
Answered by NewsBytes
As far as most consumers are concerned, there is as such no real difference between master card and visa cards. They both are global payment technology companies that connect consumers, businesses, banks and governments across more than 200 countries and territories, and enable them to use digital currency instead of cash, checks, drafts, etc.
What are the different types of credit cards?
Asked 2018-06-13 11:54:01 by Anonymous -
Answered by NewsBytes
Credit cards can be broadly divided into two categories- Standard Credit Cards- these are plain credit cards with basic features and no or nominal fees, Specialized credit cards- these cater to the specific needs of a cardholder like dining benefits, fuel cost saving, travel privileges among others. Other types of credit cards include- General Cards, Reward Point Cards, Cash Back Cards, etc.
What will be the legal punishment for someone who does not pay the credit card outstanding bill?
Asked 2018-06-13 09:49:54 by Aman Agarwal
Answered by NewsBytes
Credit card payment default can be subjected to legal action in the court of law. The name of the violator would then become a part of the credit card defaulter list in India. This can be made into a civil dispute and the case can be filed in the court of law. For more details, you can check this link.