As Pfizer's Viagra patent ends, Indian firms prepare for dominance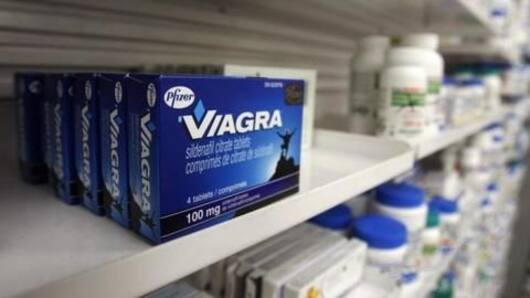 Viagra, the global leader in treating impotence in men, might soon be dethroned, as pharmaceutical giant Pfizer loses its patent for the drug in the US in 2020.
It is a golden chance for Indian companies, which are looking to tap into a lucrative $4.35bn market. Seven have already secured permissions.
Customers might lose the iconic blue pill, but heavy price drops are in the offing.
In context
What Viagra patent's end means for pharmaceutical companies
History
A brief history of the little blue pill's birth
Pfizer chemists created a compound called sildenafil citrate in 1989, which they thought was a treatment for high BP and chest pain.
It didn't produce desired results during testing, but they discovered it inhibited an enzyme that hampers erections.
It was patented in 1996 and started going on sale in 1998, becoming the first oral treatment for erectile dysfunction in the US.
Icon
Viagra didn't revolutionize just the industry, but the society too
Viagra, the "little blue pill," was more than a medicine: it changed the narrative around erectile dysfunctions and made it a commonplace term.
Many aphrodisiacs started naming or modeling themselves after Viagra.
Pfizer's patent outside US ended 2012, but in the country, it continued after Pfizer settled litigation, halting Mylan and Teva's generic-medicine production plans till December'17, when it released its own generic version.
Love Business news?
Stay updated with the latest happenings.
Notify Me
Advantage
Indian companies in US will have one significant advantage
India's Dr. Reddy's, Rubicon Research, Macleods Pharma, Hetero Drugs, Aurobindo Pharma, Ajanta Pharma and Torrent Pharmaceuticals are now targeting the 5cr-strong American market, their largest for pharmaceuticals export.
With their entry, the pill that costs $65 in the US will become drastically cheaper: Macleods sells 'Macsutra,' a desi version, in India at just Rs. 58.
Ajanta sells 'Kamagra' at even lower, for Rs. 32.
Competition
It's a matter of do-or-die for Indian firms
Both big and small companies will have certain advantages, said Niteesh Srivastava, VP, Macleods.
The former "will have a better hold on pharmacy benefit managers (PBMs) in the US," while the latter "will be able to crash prices due to less overhead expenditures."
Efforts to dominate will be boosted by the fact that the FDA hiked license fees from Rs. 45L to Rs. 1.1cr in FY18.
Factors
These two key factors will determine manufacturers' success
Two key factors will be connections with PBM, who are "responsible for developing and maintaining formulary, contracting with pharmacies, negotiating discounts and rebates with manufacturers, and processing and paying prescription drug claims."
In 2016, PBMs managed pharmacy benefits for 26.6cr Americans.
Pharmaceutical companies are also awaiting approval for OTC sales of sildenafil in the US; the UK started OTC sales this year.
Pfizer
For Pfizer, it marks the end of an era
The Indian companies will have to take their game to the top, as they will be in competition not just among each other, but with eight other companies worldwide, which have already been approved by the FDA for selling sildenafil.
But the writing's on the wall for Pfizer, who will certainly lose its monopoly: in 2014, it earned Rs. 10,900cr from sales of just Viagra.