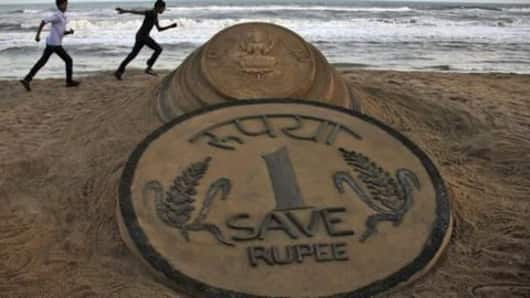 Falling Rupee, not a cause of worry: Niti Aayog VC
Niti Aayog Vice-Chairman Rajiv Kumar today said the falling rupee is not a cause of worry as it is getting back to its natural value.
"The Rupee rose by about 17% during the last three years. Since the beginning of 2018, Rupee has declined by only 9.8%," he said.
The Rupee today slumped 43 paise against the USD to a lifetime low of 70.32.
Kumar says rupee should be realistically valued, not overvalued
Kumar was speaking at an event organized by NABARD in New Delhi.
Rupee should be realistically valued and should not be overvalued, he said, adding that the exchange rate is a price which should reflect the true equilibrium between demand and supply.
He pointed out that one should not be under the impression that appreciation of rupee is a sign of a good economy.
Kumar shows positive vibes towards the state of India's economy
Allaying concerns about the state of India's economy, Kumar said, "Our rate of growth is up. Our exports are also beginning to rise. Our agriculture production is up. Our employment growth is up."
While releasing NABARD All India Rural Financial Inclusion Survey, Kumar said India has the capability of doubling farm income in the next few years as PM Narendra Modi promised yesterday.