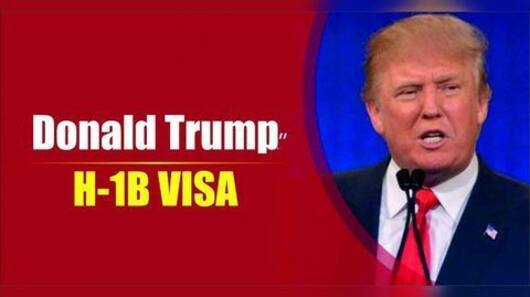 Apple, JPMorgan, Pepsi express concerns over Trump's H-1B policy
H-1B visas have been a touching topic ever since Donald Trump became the US President.
Now, dozens of top US business leaders, including Apple's Tim Cook, JPMorgan Chase's Jamie Dimon, and PepsiCo's Indra Nooyi, have signed a letter expressing "serious concerns" about the Trump administration's restrictive immigration policy and its implications on the US' economic growth.
Here's all about it.
The objections raised in the letter
The CEOs, in a letter to US Homeland Security Secretary Kirstjen Nielsen, raised deep concerns about the Trump administration's "inconsistent immigration decisions", adding that such changes were "unfair" and created "unnecessary costs and complications".
The letter, dated Wednesday, was coordinated by Business Roundtable, a Washington-based policy and lobbying group comprising top US business executives.
The Trump administration might "harm" the US economy
"As the federal government undertakes its legitimate review of immigration rules, it must avoid making changes that disrupt the lives of thousands of law-abiding and skilled employees, and that inflict substantial harm on US competitiveness," said the letter.
Love Business news?
Stay updated with the latest happenings.
Yes, notify Me
The CEOs said that limiting H-1B visas could be detrimental
In particular, the letter highlighted the treatment of the H-1B visa for highly skilled immigrants.
Citing a July policy brief by the National Foundation for American Policy that showed that H-1B visa denials are on the rise, the letter pointed out that the Trump administration's decision to limit the entry of highly-skilled people could be detrimental for the American economy.
Other points of contention raised by the letter
Credits:
Additionally, the letter alleged that the Department of Homeland Security was allowing the inconsistent application of policy in several case reviews.
It further said that by failing to inform aspiring H-1B workers about what information they needed to furnish, the Trump administration was creating uncertainty for workers.
It also spoke out against deportation among current, law-abiding, immigrant workers.
What is H-1B visa policy?
Asked 2018-08-27 10:49:32 by Anonymous
Answered by NewsBytes
The H-1B visa policy is for Indian professionals working in the IT sector of the U.S. The Trump administration has proposed to not extend H-1B visa for those who are waiting for permanent residency in the U.S. Under the new rule, the applicant who has applied for green card has to go back to his/her country till the process is complete.