Business
Delhi HC orders Britannia to pack up digestive biscuits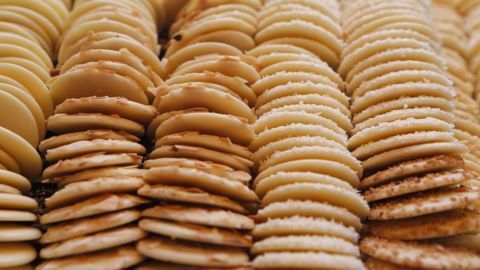 The Delhi High Court ordered Britannia Industries to withdraw from the market its range of NutriChoice Digestive Zero biscuits.
The court order comes as Britannia and ITC filed charges against each other over copying packaging and the colours used for the biscuit packs.
The High Court directed the food processing company to withdraw all its digestive biscuits from shelves within four weeks.
In context:
ITC and Britannia spar over packaging
ITC Limited is one of India's biggest conglomerates with diversified interests across consumer goods, packaging and technology.
The company, founded in early 1910 as Imperial Tobacco Company, is now headquartered at Kolkata, India.
Currently headed by Yogesh Chander Deveshwar, the company has grown to reach market capitalization of $45 billion, and has garnered revenues exceeding $8 billion this year.
About

Britannia Industries
Britannia is one of India's popular consumer goods brand, with its prime focus across food products.
Found in the late 1892, the food processing giant has grown to obtain market share of around 38%.
Owned and controlled by the Wadia Group, the company has its headquarters in Kolkata.
With over 300 stores across the country, the company has over $1.2 billion in revenue.
Love Business news?


Stay updated with the latest happenings.
24 Aug 2016

ITC files charges against Britannia for copying packaging
Kolkata-based consumer goods company, ITC, filed charges against its rival Britannia Industries, under claims that the firm had copied ITC's biscuit packaging.
ITC alleged that Britannia's NutriChoice Digestive Zero brand had copied packaging design from ITC's Sunfeast Farmlite digestive biscuit.
The case was filed with the Delhi High Court, charging Britannia with damages due to trademark, and petitioned a withdrawal of Britannia's digestive biscuits.
Britannia files counter-suit against ITC

While both the FMCG giants duelled over similar shades of color used in its packaging, with blue and yellow being dominant colours, Britannia had filed a counter-suit on 1 September against ITC's alleged use of yellow colour for packaging its digestive biscuits.
07 Sep 2016

Delhi HC orders Britannia to pack up digestive biscuits
Britannia looks to explore legal options

"The packaging architecture for NutriChoice has been built on the brand's own strategy and has not been influenced by any other brand. As far as the injunction passed by the Delhi High Court is concerned, we are exploring all our legal options in the matter."-Britannia