Business
India ranks 112 on World Economic Freedom report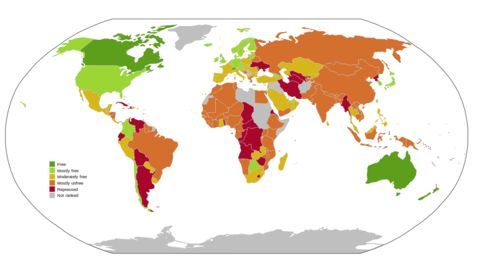 In the recently announced World Economic Freedom rankings, India slipped by 10 positions and ranked 112th amongst 159 countries.
The ranking by Centre for Civil Society in association with Canada's Fraser Institute pegged Bhutan, Nepal and Sri Lanka ahead of India at 78th, 108th and 111th ranks respectively.
However, China, Bangladesh and Pakistan lagged behind at 113th, 121st and 133rd ranks respectively.
In context:
World Economic Freedom Report
Introduction

What is the Economic Freedom of the World report?
The index published in Economic Freedom of the World estimates the extent to which the "policies and institutions of countries are supportive of economic freedom".
It was first published in 1996.
It measures the degree of economic freedom based on the size of government, legal structure, access to sound money, freedom to trade globally and the regulation of credit, labor, and business.
18 Sep 2016

India ranks 112 on World Economic Freedom report
Love Business news?


Stay updated with the latest happenings.
India fares badly in all categories

India fared poorly in all categories on the economic freedom index such as "legal system and property rights (86), sound money (130), freedom to trade internationally (144) and regulation (132) - except on the size of the government (8)".
17 Sep 2016

Top and lowest ranking nations
The economic freedom index is "directly proportional to the freedom and opportunities available to its citizens."
Hong Kong ranked No.1 followed by Singapore, New Zealand, Switzerland, Canada, Georgia, Ireland, Mauritius, United Arab Emirates, Australia, and the United Kingdom.
The 10 lowest-ranked countries are: Iran, Algeria, Chad, Guinea, Angola, Central African Republic, Argentina, Republic of Congo, Libya and lastly Venezuela.
Comparison

Wellness comparison between top-most and lowest quartile nations
Countries with more economic freedom out-perform non-free nations in general well-being.
The average income of the poor was $11,283, compared to $1,080 in the bottom quartile.
Top quartile nations had an average per-capita GDP of $41,228 compared to $5,471 for lowest quartile countries.
Life expectancy was an average 80.4 years (topmost quartiles) compared to 64 years in the bottom quartile.
17 Feb 2017

India down to 143 in Economic Freedom Index
India has ranked 143rd in the Heritage Foundation's Index of Economic Freedom report due to "uneven" market oriented reforms.
The report categorized India under "mostly unfree" economies, saying India had a "restrictive and burdensome regulatory environment" because the state had a "heavy presence" in many areas through PSUs.
In South Asia, only Afghanistan and Maldives ranked below India.