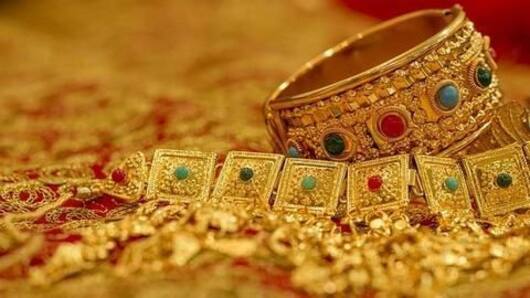 Gold strikes at Rs. 32,650/10g, touches nearly six-year high
Gold prices rallied for the second consecutive session today, rising by Rs. 30 to touch a nearly six-year high of Rs. 32,650/10g amid increased festive demand.
Silver, however, continued to remain weak and fell by Rs. 40 to Rs. 39,200/kg due to tepid demand by industrial units.
Traders said sentiment remained positive on growing demand in the wake of the upcoming festival of Diwali.
Highest since November 2012 when gold was at Rs. 32,940/10g
Globally, gold stood at $1,217.84 an ounce in New York.
In the Delhi bullion market, gold of 99.995 and 99.5% purity surged by Rs. 30 each to Rs. 32,650 and Rs. 32,500/10g, respectively.
This is the highest level since November 29, 2012, when the precious metal had closed at Rs. 32,940/10g.
Sovereign gold, however, remained unchanged at Rs. 24,900 per piece of 8 gram.
In contrast, silver fell by Rs. 40 to Rs. 39,200/kg
In contrast to gold, silver ready prices today fell by Rs. 40 to Rs. 39,200/kg, while silver weekly-based delivery rose marginally by Rs. 5 to Rs. 38,350/kg. Silver coins rates also increased to Rs. 76,000 for buying and Rs. 77,000 for selling of 100 pieces.