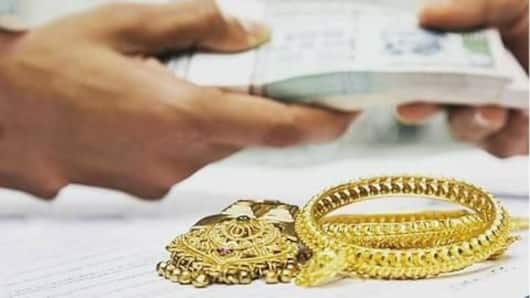 #FinancialBytes: Here's everything you need to know about gold loans
For many people, taking a loan against gold can come in very handy in the times of need as a quick and hassle-free option compared to personal loans.
Gold loans, which are provided by banks and other financial institutions, are one of the most preferred loan options as these require minimal documentation.
Here's all you need to know about gold loans.
What exactly is a gold loan?
Loans provided by lenders against the security of the borrower's gold, in the form of jewelry, coins, biscuits etc., are called gold loans.
While the amount of loan sanctioned depends on the form of gold, purity, and other factors, it's generally around 60% of the value of gold given as collateral.
The interest rates are also more attractive compared personal loans and other options.
Gold coins and bars offer higher value than jewelry
Lenders typically sanction loans on gold of 18-24 carats. Gold coins and bars usually offer higher value than jewelry as the weight/value of precious stones embedded in ornaments is not considered.
One can apply for a gold loan online on the lender's website or by visiting its branch. Borrowers need to submit their photograph, identity proof, address proof, and PAN along with the application.
Love Business news?
Stay updated with the latest happenings.
Yes, notify Me
Gold loans generally disbursed by lenders in few hours
After receiving an application, lenders sanction loans after scrutinizing the documents and evaluating the gold offered as security. The borrower and lender also sign a gold loan agreement.
The gold that has been valued is then deposited with the lender after which the loan is disbursed. The disbursal process is quicker than other loan types and is generally completed within a few hours.
Customer's gold is safely stored in strong room vaults
The gold remains in the custody of the lender until the loan is repaid. The repayment tenure is typically 6-18 months.
The gold deposited by the borrower is kept safely and is returned in the same state as received by the lender upon repayment of the loan.
Customers also need to pay a loan processing fee and gold valuation fee.
Things to keep in mind before taking gold loans
Gold loans are a convenient option as anyone, who may not qualify for traditional loan options, can also avail these loans.
However, one must be careful before taking a gold loan and repay it within the tenure.
Otherwise, borrowers may end up losing their gold if there's a default in repayment as lenders can sell the gold to recover dues as per loan agreement.