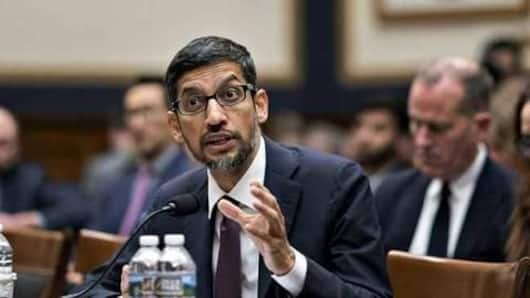 Pichai asked to explain why Googling 'idiot' returns Trump photos
When Google CEO Sundar Pichai, on Wednesday, appeared for his first Congressional hearing, he was asked why a Google image search for 'idiot' returns images of Donald Trump.
This question effectively set the tone for the hearing, which sought to address issues of alleged political bias, data security, etc.
Yet, while Pichai parried questions, a not-so-tech-savvy Congress bombarded him with more.
Here's what happened.
A basic overview of what went down
The hearing was held before the House Judiciary Committee to probe into allegations of political bias and censorship against Google, and to investigate Google's data collection practices and associated privacy issues.
However, much like Congressional hearings of other tech CEOs like Mark Zuckerberg and Jack Dorsey, the Congress effectively demonstrated that it simply doesn't understand how the internet works.
Where do the allegiances of tech companies lie?
"All of these topics - competition, censorship, bias, and others - point to one fundamental question that demands the nation's attention: Are America's technology companies serving as instruments of freedom, or instruments of control?" was the question raised at the outset of the hearing.
Love Business news?
Stay updated with the latest happenings.
Yes, notify Me
Pichai schools Congress in how algorithms work
The aforementioned sharply worded question on Donald Trump was asked by Democrat Zoe Lofgren, who ran the search from the dias itself.
Replying, Pichai, patiently explained how Google search algorithms take into account over 200 factors to return search results.
"So it's not some little man sitting behind the curtain figuring out what we're going to show the user?," was Lofgren's wry reply.
Political bias would be against Google's business interests, explained Pichai
Lofgren, with the question, was leading Pichai into answering to Republican allegations that Google has an anti-conservative bias.
Google had earlier been accused by many Republicans, including US President Donald Trump, of censoring conservative voices, and casting them in a demeaning light.
Although Pichai, in his mild-mannered fashion, repeatedly explained that censorship would run counter to Google's business interests, Republican lawmakers remained unconvinced.
What Pichai had to say on political bias allegations
"I lead this company without political bias and work to ensure that our products continue to operate that way. To do otherwise would go against our core principles and our business interests," said a level-headed Pichai to allegations of political bias.
Pichai admits to exploring China as a potential market
Unable to get Pichai to admit to political bias allegations, the attention soon turned to Google's plans to re-enter China.
Although reports had surfaced about Google's plans to develop a censored search engine for China, Project Dragonfly, Pichai told the committee that Google had no such plans.
However, he did admit that they were exploring China as a potential market for new products.
Why is Google interested in China?
"For us, this work had many purposes. Can we explore and serve users in China, in areas like education and health care? We may not end up doing search. We're trying to understand a market," was Pichai's reply on the China question.
Pichai deflected direct questions on data privacy
The next issue on the agenda was data privacy.
When asked about how much user data Google collects, especially via Android, Pichai admitted that the tech giant collects a lot of data.
However, he repeatedly emphasized that user data is kept under tight security, and is not widely available to Google employees.
When asked about location data, Pichai said it was a "complex area".
'We need to do better', says Pichai on hate-speech removal
Finally, Pichai was quizzed about online hate speech.
Citing a Washington Post report about neo-Nazi propaganda still being on YouTube, and being recommended to users via YouTube's algorithm, lawmakers quizzed Pichai on Google's hate speech policies.
While Pichai said Google had robust hate speech policies in place, he admitted that Google needed to do better to root out and remove misinformation and hate speech.
Yet another routine inquiry with no tangible outcomes
Although the meeting was a serious one touching on important topics, the Congress, again, demonstrated how rudimentary US lawmakers' understanding of the internet was.
Pichai, for his part, played the smart, smug CEO, answering the questions that he could, deflecting the ones the he couldn't or didn't want to.
At the end of it all, it was another routine inquiry, with no tangible outcomes.
A Republican lawmaker demonstrates ignorance yet again
Yet, for all the smugness, the hearing was not without its gaffes.
At one point, Pichai was asked by Republican lawmaker Steve King as to why nasty images about himself would pop-up on an iPhone game his granddaughter played.
In a matter-of-fact manner, Pichai replied, "Congressman, iPhone is made by a different company."
To save face, King suggested that it could have been Android.