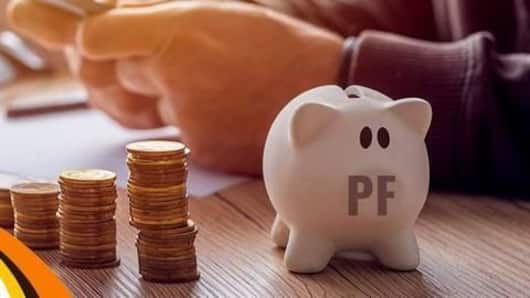 #FinancialBytes: What is Provident Fund and how to withdraw it?
The Employee Provident Fund (EPF), also known as Provident Fund, is a long-term investment instrument for the salaried individuals that is offered by the Employees' Provident Fund Organization (EPFO).
EPF is an essential tool of retirement planning for employees.
From how to check EPF and the process to withdraw the provident fund, here's everything you need to know about it.
What is Employee Provident Fund?
The Employee Provident Fund is a corpus of funds built by employees and their employers through regular, monthly contributions to create a fund that can be used by employees after retirement.
Employees are required to contribute 12% of their basic pay+dearness allowance+retaining allowance towards EPF and an equal contribution is payable by the employers too. The EPF interest rate for FY 2018-19 is 8.55%.
How to check your Provident Fund balance?
Employees can check their EPF balance in several ways online at their convenience.
One can check the balance by visiting the EPFO website, and logging in using their Universal Account Number (UAN) and password.
They can also check it on the EPFO's m-Seva app. The government's UMANG mobile app can also be used for checking the EPF balance by providing the required details.
Love Business news?
Stay updated with the latest happenings.
Yes, notify me
One can also know their EPF balance through SMS
Employees can know their EPF balance through SMS by sending "EPFOHO UAN ENG" to 7738299899 from their registered number.
They must type UAN (number) followed by the first three letters of any of the 10 supported languages, including English, Hindi, Punjabi, Gujarati, Marathi, Kannada, Telugu, Tamil, Malayalam, and Bengali.
Alternatively, they can give a missed call on 011-22901406 to know the balance through SMS.
When can employees withdraw their EPF balance?
Employees can withdraw their entire EPF balance either when they retire from employment after turning 58 or before reaching that age in case they remain unemployed for at least two months.
They can also withdraw the balance partially (under some circumstances subject to certain conditions) for marriage, purchase of land/house, repayment of home loan, house renovation, or after turning 57.
How to submit the EPF withdrawal application?
One can submit their EPF withdrawal form in two ways: online and offline.
For the online facility, employees should log into EPFO's unified portal using their UAN and password, and select Online Services> Claim> Proceed For Online Claim to submit their claim.
Alternatively, they can download "Composite Claim Form" from EPFO's portal that can be filled and submitted to the respective jurisdictional EPFO office.
How to transfer EPF balance after changing a job?
Employees who have switched jobs can transfer their EPF balance from one employer to another.
They can log into EPFO's unified portal and choose "One Member-One EPF Account (Transfer Request)" under "Online Services".
After verifying the details shown, they can choose their current/previous employer for attesting their claim. Next, they must authenticate the OTP sent to their registered number and submit their request.
How can I deactivate my EPF account?
Asked 2018-12-18 18:19:58 by Ramesh
Answered by NewsBytes
You can deactivate your EPF account by following this procedure: Report the matter to your immediate employer or to the EPFO through uanepfo@epfindia.gov.in. In the mail, mention your current UAN and after the verification process, it will be deactivated.
How many days does it take to withdraw money from PF?
Asked 2018-12-18 01:33:30 by Gaurav Chavan
Answered by NewsBytes
The PF withdrawal is basically categorized into three types (1) PF final settlement, (2) PF partial withdrawal, (3) Pension withdrawal benefit. It takes about 1-2 weeks to withdraw the money from your PF account.