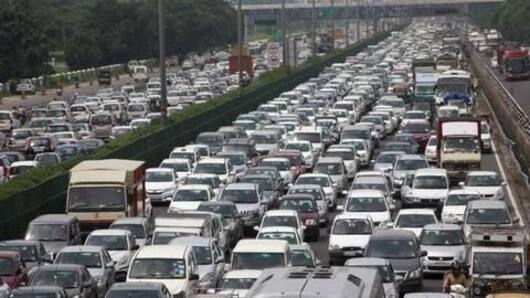 Delhi: Cars to get costlier; one-time parking fee hiked 18-fold
Cars buyers in Delhi will see costs of cars go up significantly in 2019, as the Delhi Transport Department has approved a recommendation for hiking the one-time parking fee that is charged during vehicle registration.
The new parking charges, which come into effect from January 1, 2019, will see the one-time parking fee in certain cases increase by as much as 18-fold.
Here's more.
The mechanism will exist till spot-charging becomes a norm
The recommendation for a hike in one-time parking fees had been suggested by three municipal corporations in the city, and it was approved by outgoing Transport Commissioner Varsha Joshi on Friday.
Currently, as per Union Urban Affairs Ministry norms, a one-time parking fee is charged for the development of parking infrastructure.
The mechanism will remain till a new spot-charging mechanism for parking is introduced.
What Joshi had to say about the order
"Till [spot-charging becomes the new norm]...this mechanism will be applicable. So we followed an urban affairs ministry notification and issued these orders," said Joshi.
Love Business news?
Stay updated with the latest happenings.
Yes, notify me
The new parking fees are significantly higher than earlier
According to the order, the one-time parking fee charged for private cars and SUVs will range between Rs. 6,000 and Rs. 75,000, with the latter being over 18 times the current charge of Rs. 4,000.
Meanwhile, annual parking fees for commercial vehicles has been hiked from the current Rs. 2,500-4,000 to Rs. 10,000-25,000, much to the ire of bus and taxi operators.
Transporters in Delhi are planning a strike
While Delhi Transport Minister Kailash Gahlot has said that he is unaware of such an order being passed, many in the city aren't happy.
Organizations of transporters in the city have threatened to go on strike from Monday in a bid to protest against the hike in parking charges.
They have said that they will appeal to the Lieutenant-Governor for rolling back the hike.
Transporters want to meet the Chief Minister and transport minister
"We will meet the Chief Minister and the transport minister on Monday against the hike because it will impact us negatively. If need be, we will resort to a strike also," said Shyam Lal Gola, spokesperson of State Transport Authority Operators Ekta Manch.
Sale of vehicles could shift to neighboring states
Although the hike is expected to result in greater revenues for civic bodies in Delhi, it might also lead to undesirable economic consequences.
It could, for instance, affect the transport department if the sale of vehicles shift to neighboring states.
Indeed, such a shift is likely, as fees would differ enormously between Delhi and its neighboring states.
The government also has plans to charge petrol/diesel vehicle owners
The move comes days after it was reported that the Union government was on the verge of finalizing a 'feebate' policy that would slap a surcharge of Rs. 12,000-70,000 on petrol/diesel vehicles in a bid to boost use of electric vehicles (EVs) in India.