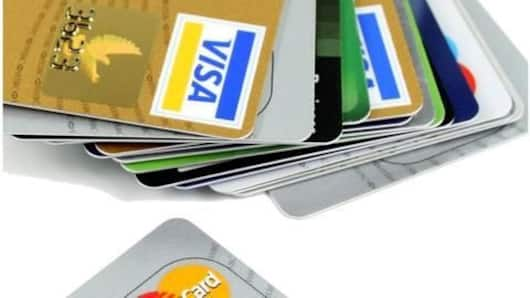 #FinancialBytes: Credit-card options if your salary is below Rs. 40,000pm
Credit cards have become an essential part of our lives today. People use credit cards for almost everything, including online/offline shopping, bill payments, travel purchases, etc.
There are a number of credit cards available in India, but choosing the right one can help save money.
If you are someone with a monthly salary below Rs. 40,000, here are 5 credit card options for you.
Platinum Chip Credit Card offered by ICICI Bank
ICICI Bank Platinum Chip Credit Card is one of the best options for someone with a salary below Rs. 40,000.
It comes with a Rs. 199 joining fee and Rs. 99 annual fee.
Cardholders can earn PAYBACK Reward points and enjoy minimum 15% savings on dining (Culinary Treats), 1% fuel surcharge waiver, annual fee waiver on annual spends of Rs. 50,000 or more, etc.
SimplyCLICK SBI Card among the best for online shopping
State Bank of India's "SimplyCLICK Credit Card" is another good option for those earning below Rs. 40,000/month.
With Rs. 499 annual fee (reversible on Rs. 1L annual spends), it offers Rs. 500-worth Amazon "welcome voucher".
Users can earn 10 reward points for every Rs. 100 spent online (exclusive partners), 5 points for other online spends, 1 point for regular purchases, and 2.5% fuel-surcharge waiver.
Love Business news?
Stay updated with the latest happenings.
Yes, notify me
HSBC Visa Platinum Card offers travel, dining, shopping offers
Next on the list is HSBC Visa Platinum Card with zero joining and annual fees; it's one of the most-preferred credit cards.
Cardholders can enjoy 10% cashback on all spends (initial 90 days), 3x rewards on hotel/dining/telecom expenses (first 12 months), 2 points for every Rs. 150 spent, 20% Dining Privileges discount, BOGO (buy one, get one free) BookMyShow tickets (twice monthly), vouchers, etc.
Kotak Mahindra Bank's Urbane Gold Credit Card
Kotak Urbane Gold Credit Card is another good option. Those in the age bracket of 21-65 years with an annual income of Rs. 3 lakh or above are eligible.
The card comes with no joining fee and an annual fee of Rs. 199. Cardholders can earn 3X reward points against every Rs. 100 spent and enjoy attractive deals and free PVR movie tickets too.
Axis Bank's Insta Easy Credit Card
Axis Bank's Insta Easy Credit Card issued against fixed deposits is another good option; iyt doesn't have a minimum salary requirement. It's issued against a fixed deposit of Rs. 20,000-25,00,000.
The zero-fee card offers a credit limit of up to 80% of FD's principal value.
Customers can enjoy 15% discount at partner restaurants (Dining Delights), 1% fuel-surcharge waiver, convert-to-EMI facility, eDGE Reward points, etc.
Can non-salaried persons apply for Axis Bank Insta Easy Credit Card?
Asked 2018-12-25 02:39:44 by Reyansh Sarin
Answered by NewsBytes
As Axis Bank issues the Insta Easy Credit Card against fixed deposits, non-salaried persons can also apply for the same. Anyone above 18 years of age, including students, can apply for the credit card.
What are some credit card options for someone with no income?
Asked 2018-12-25 02:39:44 by Aarav Mehra
Answered by NewsBytes
In India, some banks issue credit cards to people with no income, even students, against fixed deposits and strong savings accounts. Some options include: Axis Bank Insta Easy Credit Card, SBI Card Unnati, ICICI Bank Instant Platinum Credit Card, and Kotak Mahindra Bank's Aqua Gold Credit Card.
Can you suggest some credit cards with good reward programs?
Asked 2018-12-25 02:39:44 by Navya Gavde
Answered by NewsBytes
Here are some credit cards offering good reward points and other benefits: Standard Chartered Platinum Rewards Credit Card, SBI SimplyCLICK Advantage Credit Card, YES FIRST Preferred Credit Card, HDFC Diners ClubMiles Credit Card, and Citi Rewards Credit Card.
How can I save money using credit card?
Asked 2018-12-25 02:39:44 by Diya Sengupta
Answered by NewsBytes
Credit cards can help you save money and earn rewards. Here's how: Avail discounts, deals, and cashback offers to save money using credit cards. Save on fuel purchases through fuel surcharge waivers or reward points. Avail travel offers, restaurant deals, and free movie tickets. Earn reward points for transactions and redeem them. Avail No-cost EMI and flexible EMI offers.