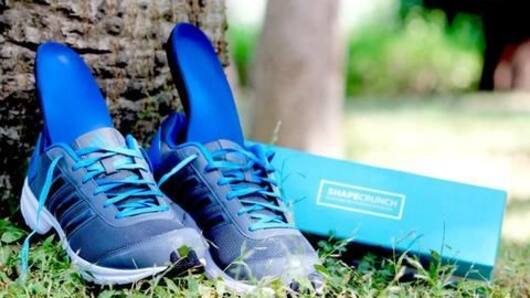 This Indian start-up upgrades budget running shoes using 3D printing
For every fitness freak, a comfortable pair of running shoes is a must, no matter how overly-expensive they might be.
People tend to spend thousands just to get a pair that looks good and prevents their foot from the strain of running.
But now, an Indian start-up is solving this problem by upgrading budget shoes with its own custom-made solution.
Here's more about it.
Shapecrunch and its 3D-printed insoles
To save people from the trap of expensive shoes, Shapecrunch is focusing on what lies inside the shoe, aka its insole.
The company makes medically validated, 3D-printed insoles designed specifically according to the condition of a person's foot.
They are claimed to be much better at managing pain and preventing injuries and are being offered online as well as via physiotherapy clinics.
How Shapecrunch's insoles are better?
Shapecrunch claims it's better to buy their insoles for affordable shoes rather than spending loads on shoes with insoles produced for mass-market.
This is because their insoles come with thick PORON foam padding, 3D-printed base, heel cups, and anti-microbial covering making them comfortable.
Also, they are designed by taking all foot-related problems, from overpronation and ankle Instability to flat foot and ulcers, into account.
Love Business news?
Stay updated with the latest happenings.
Yes, notify Me
Even insoles from shoes worth Rs. 13,000 fail against Shapecrunch
Backing up the claim of enhanced protection, Shapecrunch's co-founder, Nitin Gandhi, compared their custom-made insole with a pair of branded shoes costing Rs. 13,000. The custom-made product, as Gadgets360 reported, was much better with more pronounced support, thicker padding, and custom arch support.
Finally, what is the cost of these insoles?
Shapecrunch's insoles are priced at Rs. 3,500 and can be purchased online by submitting foot details on the company's app.
Alternatively, people suffering from foot-related problems can also visit the clinics listed on the company's website.
They have partnered with medical consultants who analyze the condition of your foot, take images and measurements, and submit an order for a custom-made insole.
Here's what Nitin Gandhi said about their custom-made insoles
"We haven't entered into that cool quotient," Gandhi told Gadgets360 while explaining Shapecrunch's mission. "We are selling it mainly for people who are looking for a functional thing and very good quality that too by professionals and doctors. We sell it as a medical device."
Are these insoles available in the US?
Asked 2019-01-04 00:37:10 by Aanya Patil
Answered by NewsBytes
Yes. Apart from India, Shapecrunch ships its custom-made insoles to the US and Singapore.
What is the price of these insoles?
Asked 2019-01-04 00:37:10 by Vihaan Balasubramanium
Answered by NewsBytes
In India, these insoles are priced at Rs. 3,500, while other markets they are priced over $200 (Rs. 14,000).
Can I have these insoles for formal shoes?
Asked 2019-01-04 00:37:10 by Charvi Jayaraman
Answered by NewsBytes
Yes. Custom-made insoles from Shapecrunch are not just for running and you can get them for formal or business shoes too.
How to find the nearest Shapecrunch physio center?
Asked 2019-01-04 00:37:10 by Charvi Dasgupta
Answered by NewsBytes
To find the nearest clinic, visit this link and check for the city where you live or you can also place an order online by downloading the Shapecrunch app on Android or iOS.