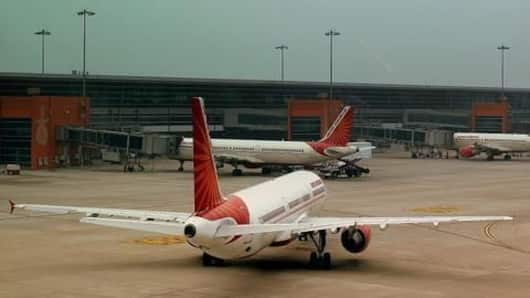 Government eyeing to pocket $1bn from sale of Air India
According to an official, the government is planning to raise around $1bn (around Rs. 7,000cr) from the sale of state-run carrier Air India in the next financial year.
Reportedly, the government will initiate the process of disinvestment in the airline some time in the second half of 2019-20, and in the mean time, will try to sell some of Air India's subsidiaries.
Here's more.
An attempt to sell 76% stake resulted in failure
Initially, the government had planned to sell 76% stake in the national carrier in May last year, but that attempt resulted in failure, presumably because the buyer would have to take over Rs. 24,000cr in debt and an additional Rs. 8,000cr in liabilities.
Subsequently, a panel led by Finance Minister Arun Jaitley decided to scrap the plan and look for alternatives.
Subsequently, funds were pumped into Air India
It was decided that fresh funds would be infused into the carrier, and attempts would be taken to reduce Air India's debt through the sale of land assets and other subsidiaries of the airline.
Then, in August, the government poured Rs. 980cr in equity capital into the airline, and followed it up with another Rs. 2,345cr infusion earlier this month.
Love Business news?
Stay updated with the latest happenings.
Yes, notify Me
In September, several Air India properties were put on sale
Meanwhile, efforts were also taken to reduce Air India's debt.
In September last year, the government invited bids to sell Air India's properties across India in an attempt to raise resources.
28 flats in Mumbai, seven flats in Ahmedabad, and two flats and an office space in Pune were put up for sale, among other properties located across the country.
Sale of AI subsidiaries has already been cleared
Meanwhile, the ministerial panel has already cleared the sale of several subsidiaries under Air India, including its ground handling subsidiary, Air India Transport Services, and another subsidiary, Air India Engineering Services.
In the mean time, a plan to revive the airline through a comprehensive financial package, and robust organizational and governance reforms is also in place.
Time will tell what Air India has in store.
How much debt does Air India have?
Asked 2019-01-09 18:04:53 by Aadhya Malhotra
Answered by NewsBytes
Air India had a total debt of Rs. 55,000cr. However, in November 2018, the government approved plans to transfer Rs. 29,000cr of Air India's debt to a special purpose vehicle (SPV) - Air India Asset Holding Company.
How big is Air India's fleet?
Asked 2019-01-09 18:04:53 by Paridhi Rangan
Answered by NewsBytes
As of August 2018, Air India had 49 wide body aircraft and 76 narrow body aircraft. Meanwhile, Air India subsidiaries Air India Express and Alliance Air have 23 and 15 aircraft respectively, bring Air India's total fleet strength to 163 aircraft.
Who will buy Air India?
Asked 2019-01-09 18:04:53 by Vivaan Bose
Answered by NewsBytes
Earlier, IndiGo and Vistara (a joint venture between Tata and Singapore Airlines) had expressed interest in Air India's sale. However, it is not known who could be interested in buying Air India now.
How many destinations does Air India fly to?
Asked 2019-01-09 18:04:53 by Sai Nair
Answered by NewsBytes
As of March 2018, Air India serviced 94 destinations across 28 countries, with 54 of those being domestic destinations, and 40 being international destinations.