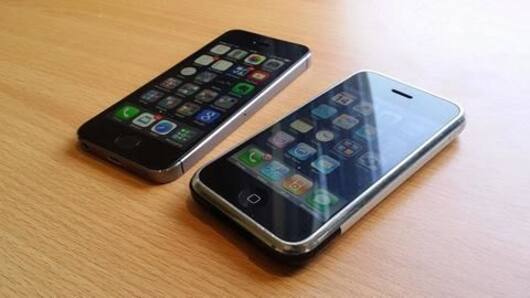 iPhone 12th anniversary: From a revolutionary device to over-priced junk?
It is 2019 and more than 2.5 billion people out of the world's 7.7 billion population are smartphone users.
Not only have smartphones become mainstream, they have also ushered in an era of unprecedented connectivity and technological innovation.
However, 12 years back, the world was very different and mobile phones meant hardware keyboards, small displays, and un-smart software.
What changed it all? The iPhone.
The world's first 'smartphone' as we know it
It was on this very day, the 9th of January in 2007, that Apple co-founder Steve Jobs took to the stage in the MacWorld event and gave the world its very first glimpse of what we call a 'smartphone'.
For its time, the iPhone was more than a phone - it was a wide-screened iPod, a mobile phone, and a breakthrough internet device rolled into one.
The iPhone actually made science fiction a reality
Developed in utter secrecy for over two years, the iPhone was a revolutionary device that would soon make older hardware keyboards and styluses on mobile phones obsolete.
The device, for the first time in the world, brought in a multi-touch interface and physics-based interactivity.
You might scoff thinking that this technology is commonplace and not particularly special, but back in 2007, it was science fiction.
Love Business news?
Stay updated with the latest happenings.
Yes, notify Me
What the first generation iPhone packed under its hood
And so, months after its announcement in January, the first generation of the iPhone started shipping in the US from June 2007.
The phone boasted a 3.5-inch LCD screen, 2G EDGE data radio, Wi-Fi, Bluetooth 2.0, 128MB RAM, and two storage variants - a 4GB one and an 8GB one.
The 4GB variant was priced at $499, while the 8GB variant cost $599.
The iPhone created a niche market
Expensive though they were, mobile phone prices in the $500 range were not unheard of in 2007, with devices like Motorola's RAZR flip phones costing incredible amounts.
That said, the iPhone's price meant it could not penetrate the mainstream market.
It didn't either - only 6 million units of the device were sold before it was discontinued.
What it did, however, was change the game.
And the niche market became the mainstream
Fast forward to 2019.
Smartphone companies are now locked in a never-ending battle to provide larger, high-quality touchscreens, increasing amounts of RAM and storage, and incredibly fast internet connectivity.
Artificial intelligence is increasingly being woven into operating systems as Android (also introduced in 2007, albeit after iOS) and iOS fight it out for software supremacy.
Apple was overwhelmed by Android, but kept innovating
The chaos that followed in the scramble for the best smartphone saw Android take hold of large chunks of the market, owing to the numerous manufacturers that used Google's OS.
Yet, for the longest time, Apple and the iPhone remained the innovators in the smartphone market, bringing in new technology and features with each consecutive iPhone release.
Over the years, the iPhone diminished in stature
However, all good things come to an end, and the iPhone's monopoly on smartphone innovation, too, diminished over the years, especially after Steve Jobs' death in 2011.
While the iPhone's price kept increasing with each new release, the new devices had little to offer in return except for minor cosmetic changes and (often useless) upgrades.
The latest example of the iPhone's devolution
The latest example of the iPhone's devolution is the iPhone Xs Max which, save for its brilliant display and minor software bumps, had nothing particularly new to offer.
That did not stop Apple from charging the moon - Apple put a $1,250 price tag on the 256GB variant, whereas it cost the tech giant a mere $450 per unit to manufacture.
The iPhone could become a shadow of its former self
Understandably, Apple's margins were huge, and despite sales remaining flat, the company rode on these very margins to breach the $1 trillion market cap in 2018.
Since then, however, Apple's shares have tumbled and iPhone sales have stagnated, and it is not surprising that discontent with the once revolutionary device is growing.
With more and more Android manufacturers taking up the mantle of smartphone innovation, the iPhone, if Apple doesn't change its ways, could soon become a shadow of its former self.
Which was the most popular iPhone?
Asked 2019-01-09 22:04:36 by Vihaan Patil
Answered by NewsBytes
The iPhone 6S was the most popular iPhone, with 231.22 million units shipped worldwide.
When did Apple cross the $1 trillion market cap mark?
Asked 2019-01-09 22:04:36 by Devansh Jaiteley
Answered by NewsBytes
Apple crossed the $1 trillion market cap mark on August 2, 2018.
If iPhone sales are dwindling, what is Apple concentrating on now?
Asked 2019-01-09 22:04:36 by Ishan Verma
Answered by NewsBytes
Apple is concentrating on its growing services business, and expects it to account for 60% of the company's revenue growth over the next five years.
How did Apple perform in fiscal 2018?
Asked 2019-01-09 22:04:36 by Pari Jaiteley
Answered by NewsBytes
Apple's revenue for fiscal 2018 totaled $265.6bn, while its operating income in the year hit $70.9bn, exceeding the company's maximum targets of $264bn for sales and $70bn for operating income.