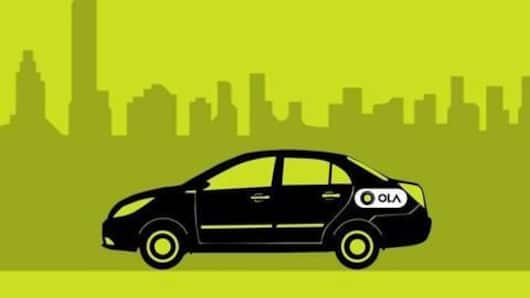 Ola reportedly receives funding from Sachin Bansal, nears $6bn valuation
Flipkart co-founder Sachin Bansal has reportedly invested $21 million (approx Rs. 150 crore) in Ola, India's famous ride-hailing company.
The investment, made in an ongoing funding round, takes the SoftBank-backed company's value closer to the $6 billion mark.
In fact, it is now India's third most valuable private company after e-commerce giant Flipkart and digital payments platform Paytm.
Here's more on the investment.
Bansal purchased over 70,000 preference shares
As part of Series J round of funding, Bansal invested $21mn (Rs. 150 crore) in Ola.
He acquired 70,588 preference shares from the company at a price of Rs. 21,250/share, according to documents filed with the Registrar of Companies and accessed by Paper.vc.
The investment came a few days after Hong Kong-based Steadview Capital invested $74mn (Rs. 523 crore) in the ride-hailing firm.
Details of Steadview Capital's investment
As part of its $74mn investment, Steadview Capital acquired 2,45,082 preference shares from Ola at the same price of Rs. 21,250/share.
Love Business news?
Stay updated with the latest happenings.
Yes, notify Me
Now, Ola stands as India's third most valued private company
The investment from Bansal and Steadview Capital has taken Ola's valuation over $5.7bn, making it the third most valued private internet company in the country.
The company surpassed OYO's $5bn valuation and is now following digital payments platform Paytm (valued at $15-16bn) and Walmart-owned e-commerce giant Flipkart (valued at $22bn).
The company is expected to cross the $6bn mark in the coming weeks.
Further investment possibility from Bansal
As Ola continues to look for new backers, it is expected that Sachin Bansal will invest more in the ride-hailing company. As per Economic Times, the Flipkart co-founder had committed a $100mn investment to Ola and this $21mn funding is just a part of it.
Connection between Sachin Bansal and Ola's Bhavish Aggarwal
The small but significant investment from Bansal makes him a crucial backer of Ola's Bhavish Aggarwal, who has been locked in a battle of control with SoftBank.
Two years ago, the duo voiced concerns over a non-level playing field in the industry, thanks to the impact of global rivals.
They had even teamed up to form IndiaTech - a group representing local internet companies.
How much Sachin Bansal made from Walmart?
Asked 2019-01-14 15:45:49 by Cheshta Kapoor
Answered by NewsBytes
Sachin Bansal made nearly $1bn after selling his 5.5% stake in Flipkart to global retail giant Walmart last year.
How much stake Walmart owns in Flipkart?
Asked 2019-01-14 15:45:49 by Navya Gavde
Answered by NewsBytes
Last year, Walmart acquired 77% majority stake in Flipkart for $16bn.
Is Bansal investing in other startups?
Asked 2019-01-14 15:45:49 by Harini Nair
Answered by NewsBytes
Yes. Bansal has been investing in local startups since 2014, but those were small investments valued at $1-2mn.
Who are Ola's founders?
Asked 2019-01-14 15:45:49 by Sanvi Mittal
Answered by NewsBytes
Ola was founded by Bhavish Aggarwal and Ankit Bhati as an online cab aggregator in Mumbai but is now based in Bangalore.