Business
Lufthansa seeks injunction on pilot strikes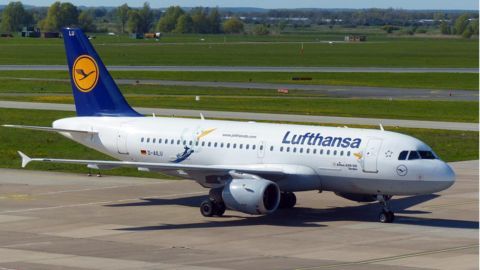 Lufthansa pilots announced yet another upcoming strike on Tuesday and Wednesday.
Following this decision, Lufthansa approached a court in Munich to place a temporary injunction on the planned strikes.
Just last week, the pilots of Lufthansa went on a 4-day strike.
At the heart of the issue lies a conflict related to a hike in wages demanded by pilots.
In context:
Lufthansa's Pilot Strike
Background

About Lufthansa
Deutsche Lufthansa (Lufthansa) is Germany's largest airline; when combined with its subsidiaries, it is also Europe's largest airline.
Its fleet size is more than 270 aircraft and its services extend to 18 domestic destinations and 197 international destinations in 78 countries.
According to statistics, in the year 2014, Lufthansa was responsible for flying over 106 million passengers.
The Vereinigung Cockpit (VC) is an association of commercial pilots and flight engineers in Germany.
It was founded on 15th March, 1969.
Priorities of the union include dealing with professional and tariff policy interests and principles such as flight safety.
It also supervises German airports in terms of their safety.
Love Business news?


Stay updated with the latest happenings.
29 Nov 2016

Lufthansa seeks injunction on pilot strikes
The Issue

The reason behind Lufthansa's pilot strikes
Tuesday's and Wednesday's scheduled strikes are a part of a long-term disagreement between Lufthansa and Vereinigung Cockpit (VC).
VC is currently demanding for an average 3.7% annual pay hike since the year 2012 for 5,400 members.
On Friday, Lufthansa offered its pilots a 2.4% wage increase in 2016 and a 2% increase in 2017.
It also offered a straight-up payment totalling 1.8 months' salary.
Stands

Viewpoints of the parties
VC rejected the offer put forth by Lufthansa stating that the airline "has refused to put forward an offer that can at least form the basis of a negotiation."
Chief executive of Lufthansa Carsten Spohr said that VC's demands are threatening the future of Lufthansa.
"There is no more leeway for even better offers when escalation is wanted, opposed to a solution," he said.
Last week's strike

The union cancelled 2,800

flights

last week. The strike, which lasted for four days affected 350,000 passengers. According to airline estimates, the pilot strikes are costing Lufthansa approximately 10 million euros per day.
Love Business news?


Stay updated with the latest happenings.
16 Feb 2017

Lufthansa strikes deal with pilots
Germany's largest airline, Lufthansa, has struck a deal with pilots union to resolve a five-year-long dispute with pilots that has cost it millions of euros.
The company agreed to increase wages by a total of 8.7% in four stages. It also agreed to a one-time payout of €30 million.
The new wage agreement would cover 5400 pilots employed with the airline.