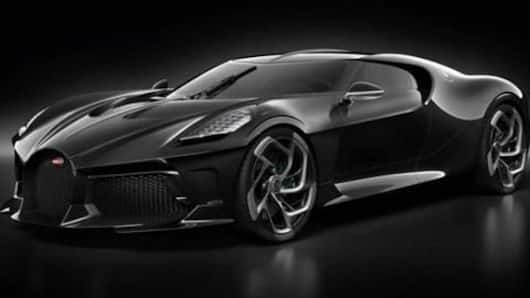 Bugatti unveiled world's most expensive car at $18 million
At the ongoing Geneva Motor Show, Bugatti has unveiled the world's most expensive car - the La Voiture Noire.
Built as an homage to Bugatti's vintage Type 57SC Atlantic, the La Voiture boasts an insanely beautiful blacked-out carbon fiber body.
It has been priced at a whopping $18 million and has already been purchased by an unnamed party.
Here are the details.
Reminiscence of Type 57SC Atlantic
Bugatti's iconic Type 57SC Atlantic dominated the 20th century, but the all-black variant of the car went missing during the Second World War.
Now, with La Voiture Noire, the automaker is bringing the luxury and class of that variant into the modern era.
The hypercar has been designed as a handcrafted one-off variant and was purchased by the first person it was offered to.
Carbon fiber body with handcrafted components
Just like Type 57, which was designed by founder Ettore Bugatti's eldest son Jean, La Voiture Noire also hosts all high-quality handcrafted components.
The car boasts a complete carbon fiber body with a gloss black finish and delivers a mix of retro and modern Bugatti to perfection.
Bugatti designer Etienne Salome claimed the design was worked upon until nothing more could be improved.
Love Business news?
Stay updated with the latest happenings.
Yes, notify me
Plus, Chiron's drivetrain under the hood
The luxury of La Voiture Noire has been combined with drivetrain of another Bugatti masterpiece - the Chiron.
As a result, you get an 8-liter 16-cylinder engine capable of producing 1,500 horsepower and 1,600 Nm of torque under the hood.
Plus, there are six exhaust pipes at the rear - much like Atlantic's five - for a whole new level of power and noise.
No word on exact speed of the new hypercar
Bugatti hasn't said much about the speed of the one-off hypercar, but as its drivetrain is built upon Chiron, you can expect similar speed and acceleration from the car. Chiron, for reference, can do 0-100kmph in 2.4 seconds and has a top speed of 420kmph.
Also, buyer's name remains unclear
The sole model of the exotic La Voiture Noire was taken by the first person it was offered to, but no one really knows who this person is.
Some think that Ferdinand Piech, the grandson of Porsche's founder and the former chief executive of Volkswagen which owns Bugatti, is the buyer, BBC reported.
However, none of that has been officially confirmed.
Will this car come to India?
Asked 2019-03-10 11:51:53 by Shreya Jaiteley
Answered by NewsBytes
No, it is a one-off model which has been sold already.
What's special about this car?
Asked 2019-03-10 11:51:53 by Surabhi Malhotra
Answered by NewsBytes
It is car reminiscing Bugatti's iconic vintage Type 57SC Atlantic.
How many Type 57SC Atlantic are there at this moment?
Asked 2019-03-10 11:51:53 by Aradhya Powar
Answered by NewsBytes
Four Type 57SC Atlantic were made but after one went missing, only three exist today.
Were any other hypercars also unveiled at Geneva Motor show?
Asked 2019-03-10 11:51:53 by Divya Balasubramanium
Answered by NewsBytes
Yes, many hypercars were unveiled at the Motor Show, including Mahindra's Pininfarina Battista.