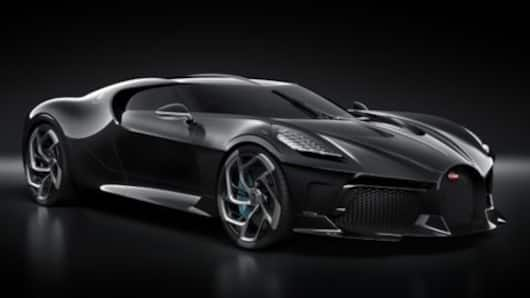 5 expensive cars that most of us can never afford
There are some cars we own, some we want to own, and some that we know we'd never own.
The last category is of dream cars - those that are made by famed automakers and are about brilliant looks, finest craftsmanship, brutal power, as well as a price tag only select few can afford.
Here's a look at most expensive cars of all time.
Bugatti La Voiture Noire: Sold at around Rs. 132 crore
With an outrageously beautiful exterior, the all-black carbon-fiber made Bugatti La Voiture Noire is the most expensive car ever made.
Under the hood, this one-of-a-kind masterpiece packs an 8-liter 16-cylinder engine that is capable of producing 1,500 horsepower and 1,600 Nm of peak torque.
Notably, there's only one La Voiture Noire and it has been taken by the first person it was offered to.
Rolls Royce Sweptail: Priced at Rs. 90.4 crore
Rolls Royce is synonymous with luxury, and the classic example of the same is its Sweptail.
Based on the Phantom architecture and powered by a BMW sourced twin-turbocharged 6.6-liter V12, the luxury coupe claimed the title of "world's most expensive car" in 2017.
The Sweptail, as described by Giles Taylor, Director of Design at Rolls-Royce Motor Cars, "is the automotive equivalent of Haute Couture."
Love Business news?
Stay updated with the latest happenings.
Yes, notify me
Mercedes-Maybach Exelero: Priced at Rs. 55.65 crore
Like the previously mentioned cars, the Mercedes-Maybach Exelero is also a one-off car.
The luxury coupe was commissioned in 2004 by Fulda, a German subsidiary of Goodyear, to test the company's new tires. Surely, that's some costly testing.
It featured the design of a Maybach and was powered by a twin-turbo V12 engine that churned out 690 horsepower and 1,020 Nm of torque.
Koenigsegg CCXR Trevita: Priced at Rs. 33.4 crore
In 2017, Swedish automaker Koenigsegg launched CCXR Trevita - the company's most expensive supercar till date.
Under the hood, the CCXR Trevita came with a twin-turbocharged 4.8-liter V8 motor that offered 1,004 horsepower, 1,080Nm of peak torque and a top speed of 410Kmph.
However, the astronomical prices were because of the car's unique diamond weave carbon-fiber bodywork.
Notably, Floyd Mayweather once owned this car.
Lamborghini Veneno: Priced at Rs. 33.3 crore
Launched in 2013, the Veneno is still the most-expensive new Lamborghini ever offered.
The hypercar came as a re-designed Aventador with an all carbon-fiber body giving it the looks of a four-wheeled fighter jet.
It was powered by Aventador's 6.5-liter V12 motor which generated 740bhp, 609Nm of torque, and allowed the car to reach 100kmph in 3 seconds.
Reportedly, only 14 units of this car were made.