Business
2016: Bitcoins trump all currencies this year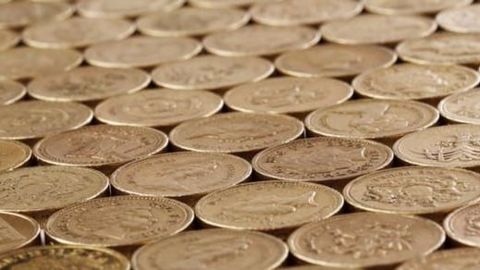 Digital currency bitcoin topped the currency charts in 2016, according to data reported by Bloomberg.
The reports stated that the bitcoin's price had surged by a whopping 79 percent since the start of the year to touch $778.
This was pitched to be the biggest increase over the last three years.
The increase topped the biggest gains made by Brazil's real and Russia's ruble.
In context:
The Bitcoin era
What are bitcoins?

Bitcoins are a type of digital currency that are held electronically. Popularly known as cryptocurrency, bitcoins are used like other regular currencies for making purchases and transactions online. But bitcoins aren't regulated or centralized. No institution controls the digital currency.
Working

How do bitcoins operate?
A bitcoin user, with an installed bitcoin wallet on the computer or a mobile device, uses a bitcoin address to make online transactions.
The entire bitcoin network is mapped to a shared public ledger, which is enforced with cryptography and collects all the transactions that were made.
As soon as a transaction request is placed, it gets added to the ledger and processes payment.
Love Business news?


Stay updated with the latest happenings.
18 Dec 2016

2016: Bitcoins trump all currencies this year
Bitcoin users surge amidst uncertainty over national currencies

"There are starting to be consumer uses for bitcoin, and if people have any concerns about their own

fiat

currency -the rupee, for example - they flee to bitcoin as an alternate currency," said Tim Draper, a venture capitalist.
03 Mar 2017

Bitcoin value exceeds gold for the first time
The value of a unit of Bitcoin has for the first time exceeded the value of a troy ounce (31.1 gm) of gold.
The Bitcoin closed at $1,268 on Thursday while gold stood at $1,233.
The current high marks a huge reversal for Bitcoin as its value had plummeted in 2014.
Surging demand in China could explain the high Bitcoin prices.
Bitcoin usage catches up across the globe

With many countries witnessing fluctuating values in their currencies, bitcoins have seen their usage surge. Venezuela currently has over 85,000 users from a meagre 450 in 2014. The Swiss Railways are also innovating with ticket machines, by selling bitcoins at the stations.
Love Business news?


Stay updated with the latest happenings.
22 May 2017

Rs.6,400 in Bitcoin in 2010 is now worth Rs. 470cr
Bitcoin- the digital currency broke all records today by trading at $2,167.24.
In April, the cryptocurrency soared almost 65%, making the total market cap of the asset reach $32.92 billion.
To put things into perspective, those who bought $100 (Rs. 6400) of bitcoin at 0.003 cent price in May 2010, would now have around $72.9 million (Rs. 470cr).