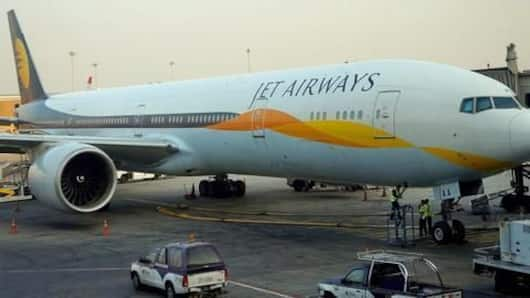 What will happen to cash-strapped Jet Airways: An explainer
Cash-strapped Jet Airways canceled all its international flights on Thursday and flew just 11 domestic aircraft on Friday, as the meeting between management and lenders remained inconclusive.
Both parties met on Friday to discuss the way forward for the airlines but couldn't reach a consensus.
With the airlines struggling to stay afloat, all eyes are on Monday's meeting.
Here's what could happen.
Last month, Jet's founder and his wife quit the company
As Jet's trouble mounted, founder Naresh Goyal and his wife Anita quit the company on March 25.
Jet owes money to vendors and employees. Government banks, including SBI, offered to help the airlines but they demanded Naresh and his wife's ouster.
Before Naresh quit, Jet's pilots wrote a letter to Prime Minister Narendra Modi to apprise him about their unpaid salaries.
In absence of money, how many flights are operational?
Jet was the largest International carrier in India. So, when it stopped abroad services, connectivity was severely hit. Notably, Indian airlines need at least 20 planes in their fleet to be allowed to fly abroad.
On Thursday, Jet flew 14 domestic flights and on Friday it flew three fewer flights.
A source told TOI Jet was "neither dead nor alive".
Love Business news?
Stay updated with the latest happenings.
Yes, notify Me
Canceling flights affected the passengers and Jet both
The canceled flights, obviously, had an impact on passengers. On Thursday, several passengers remained stranded at airports.
To minimize the inconvenience of passengers, the government has asked Jet to inform them about flight cancellation 48 hours in advance. The airlines has also stopped taking advance bookings.
Adding to its woes, Jet owes Rs. 3,500 crore to passengers for canceled flights.
Meanwhile, Jet released statement about flight cancellations
"The airline is working to minimize guest inconvenience using its 24×7 contact center, guest relations, and social media response teams, to handle schedule adjustments, in line with defined regulatory guidelines, including offering re-accommodation choices or extended applicable refunds as the situation warrants," Jet's spokesperson said.
Jet's employees have started staging marches
The beleaguered airlines can't even refuel wide-body planes. Meanwhile, employees have started staging marches to bring their condition to fore.
Jet has about 17,000 employees. If shutters are pulled on the airlines, it won't only affect direct but indirect employees as well.
In the current scenario, only immediate funds can save the company. But banks aren't willing to take the risk.
Jet needs Rs. 1500 crore but banks remained skeptical
The airlines needs Rs. 1,500 crore immediately, not in trickles but the entire sum. With the same agenda in mind, the management met banks on Friday but the latter refused to infuse money in absence of an investor.
As per reports, only SBI was keen to lend money. Other banks are waiting to see if a serious player is interested in Jet or not.
Investors have been given time till Monday
PMO called an urgent meeting on Friday to discuss Jet's situation. Civil Aviation Minister Suresh Prabhu, reportedly, asked the department's secretary to review the issues.
Separately, SBI Capital Markets, working as an adviser to the consortium of banks, gave investors time till Monday for "expression of interest".
Union Civil Aviation Secretary Pradeep Singh said the future course of action would depend on Monday's meeting.
What is Jet crisis all about?
Asked 2019-04-13 09:58:59 by Angel Khan
Answered by NewsBytes
Jet Airways doesn't have money to remain operational, pay dues to its employees, or return money to lenders. If the current scenario persists, Jet will be forced to shut down.
Who founded Jet airways?
Asked 2019-04-13 09:58:59 by Pranav Mehra
Answered by NewsBytes
Jet was founded by Naresh Goyal more than two decades ago. Last month, Naresh and his wife Anita quit the company.
Will banks lend money to Jet?
Asked 2019-04-13 09:58:59 by Aditya Rangarajan
Answered by NewsBytes
The banks haven't taken a decision on it yet. Reportedly, they aren't keen on infusing funds in the absence of an investor.
How many flights of Jet are operational?
Asked 2019-04-13 09:58:59 by Anika Rangan
Answered by NewsBytes
Jet has canceled its international flights and flew just 11 domestic aircraft on Friday.